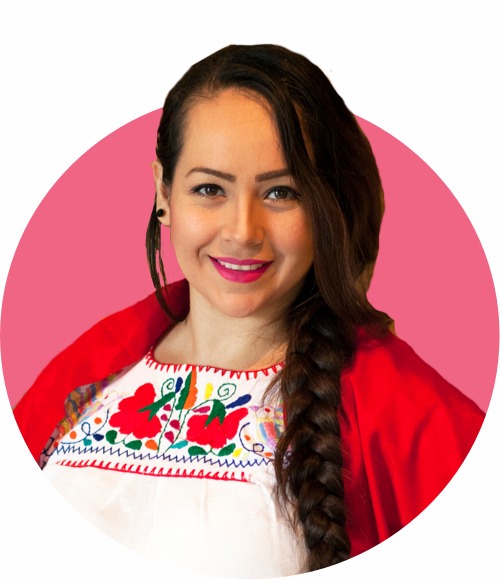 Mexican Online Workshop #2
Learn to make vegetarian black bean tostadas with tangy crema and spicy salsa roja, with pan-grilled nopales (cactus paddles) on the side!
Sunday, May 23
11am-1:30pm (EDT)
This workshop will take place online.



| | |
| --- | --- |
| | $60 per device (laptop/tablet/etc) |
| | All ages! |
| | Vegetarian |
All
Online
cooking classes include interactive cooking instruction, a virtual dinner party, a packet with the instructor's family recipes, and a video recording of the class. Since the price is per device, feel free to invite your partner, kids, or roommates to join!
Since Angie can't physically welcome you into her home, she wants to do so virtually!
Our online classes are designed to be special, meaningful opportunities to share cooking, culture, and connection--just like our real life experiences. We want you to cook along, and we promise there will be plenty of time for questions, conversation, and stories. It will all end with a virtual dinner party where you'll get to share in the fruits of your labor, apart, but together!
In this 2.5 hour interactive online experience Angie will guide you through making several of her family recipes, which can easily be made vegan. You'll start building your tostadas from the ground up by deep-frying corn tortillas. Then you'll learn how to make a tasty pot of blended black beans - no pre-soaking required! Next, you'll make a duo of tasty toppings - a beautiful salsa roja and a smooth, tart crema. All will be assembled with shredded lettuce, sliced avocado, and grated queso blanco. Finally, you'll make a delicious cactus side dish by pan-grilling them with cebollitas (spring onions), and jalapenos, and topping them with a squeeze of lime.
Here's how it works:
After registration you'll receive an email with the Zoom link, shopping list, equipment list, and recipe packet.
At the scheduled time of your class, you'll click on the Zoom link and join your class live! Afterwards, you will receive a link to a video recording of your class that you can revisit at your leisure.
Shopping List for This Class
½ head iceberg lettuce
1 head garlic
1 medium white onion
2 avocados
9 ounces plum tomatoes (2 large or 4 to 6 small)
5 large green jalapeño chiles
1 lime
16 cebollitas (1 ½ pounds, about 4 bunches, preferably small ones), or 1 large white onion
4 medium nopales (about 1 1/3 pounds) (see Cook's Note)
6 tablespoons milk
8 ounces sour cream
1 block queso blanco
10 corn tortillas (2-3 per person)
1 pound dried black beans
Sunflower oil
2 tablespoons fine Himalayan pink salt
"
I felt very comfortable in Angie's home, and she was very welcoming. I truly believed her when she said we were welcome back any time. She was also a great cooking teacher! Explaining each part, and adding various facts and tidbits as the night went on. It was evident how much she equated food and love. And everything tasted AMAAAAAAAAZIIIINNNGGGG.
"
Alex P.