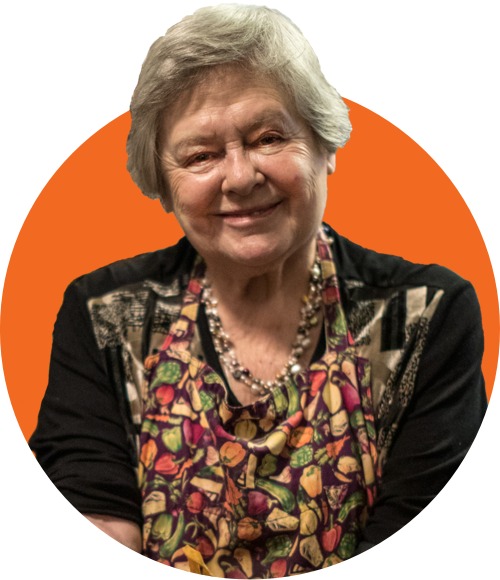 Ukrainian-Russian Cooking Online
Learn to make vegetarian borscht (a sweet, sour, and savory beet and vegetable soup) along with pampushki (a pan of adorable bread rolls topped with garlic oil and fresh herbs)!
Sunday, Dec 10
4pm-6:30pm (EST)
This workshop will take place online.





| | |
| --- | --- |
| | $60 per device (laptop/tablet/etc) |
| | All ages! |
| | Vegetarian |
All
Online
cooking classes include interactive cooking instruction, a virtual dinner party, a packet with the instructor's family recipes, and a video recording of the class. Since the price is per device, feel free to invite your partner, kids, or roommates to join!
Since Larisa can't physically welcome you into her home, she wants to do so virtually!
Our online classes are designed to be special, meaningful opportunities to share cooking, culture, and connection--just like our real life experiences. We want you to cook along, and we promise there will be plenty of time for questions, conversation, and stories. It will all end with a virtual dinner party where you'll get to share in the fruits of your labor, apart, but together!
In this 2.5 hour interactive online experience Larisa will guide you through making two of her family recipes. First you'll learn how to make pampushki (a pan of buttermilk bread rolls finished with garlic oil and a sprinkle of fresh herbs). Then Larisa will show you how to make her famous vegetarian borscht (a sweet, sour, and savory soup made with grated beets, carrots, cabbage, onions, celery, bell peppers, and green apple, topped with a dollop of sour cream and freshly chopped herbs)..
Here's how it works:
After registration you'll receive an email with the Zoom link, shopping list, equipment list, and recipe packet.
At the scheduled time of your class, you'll click on the Zoom link and join your class live! Afterwards, you will receive a link to a video recording of your class that you can revisit at your leisure.
Shopping List for This Class
1 cup of buttermilk or plain kefir, low fat OK
3 tablespoons unsalted butter
Sour cream (low fat is fine) or plain Greek yogurt for serving
3/4 cup neutral vegetable oil such as canola
3 cups of unbleached all-purpose flour
4 teaspoons sugar
1 envelope active dry yeast (2 ¼ teaspoons)
1 egg
1 bunch fresh flat-leaf parsley
1 bunch fresh dill
1 medium yellow onion
5 large cloves garlic
1 large lemon
1 small rib celery
1/2 medium tart green apple like granny smith
1 medium carrot
1 medium bell pepper (any color)
1 small green cabbage
1 large beet
1 bunch scallions (for serving)
2 medium-size boiling potatoes such as Yukon Gold
3 heaping tablespoons tomato paste
1 bay leaf
1 heaping teaspoon sweet paprika
1 large pinch hot paprika, chili flakes, or Aleppo pepper
Salt
Pepper