Trinidadian Cooking with Dolly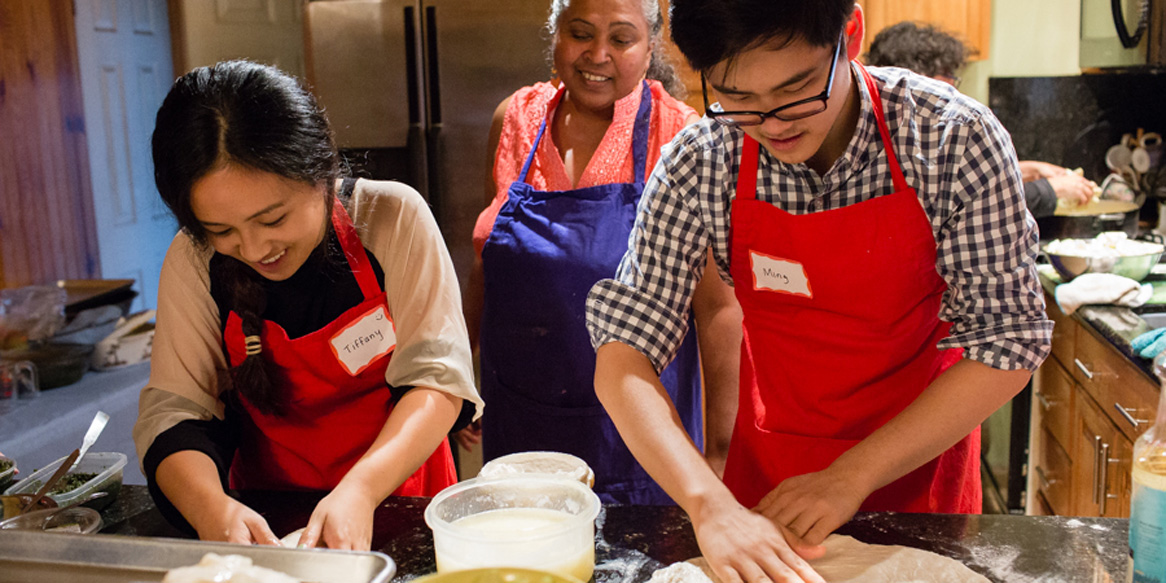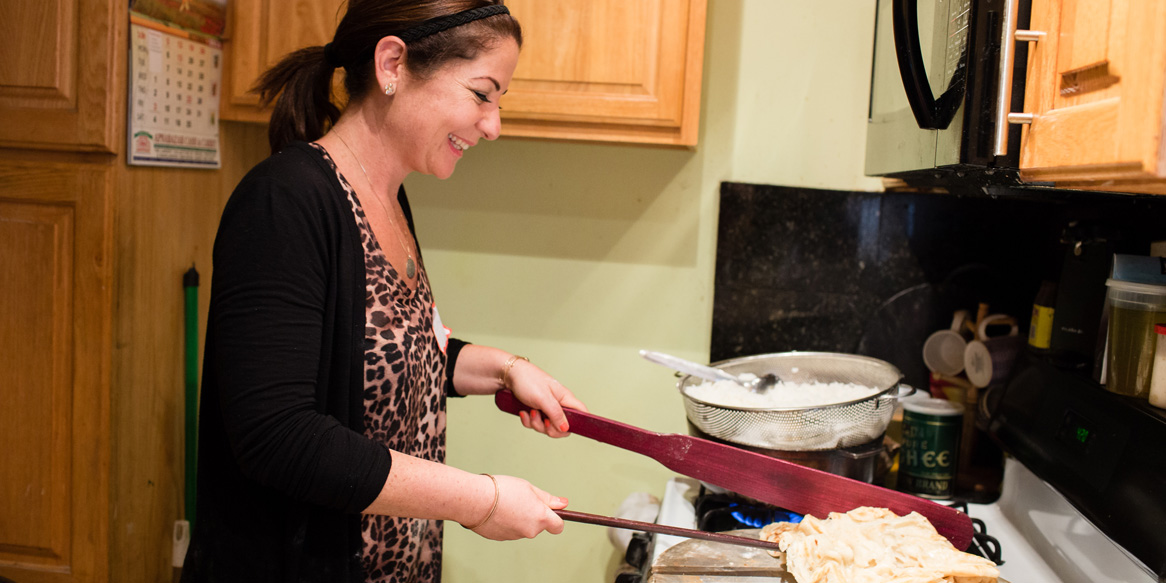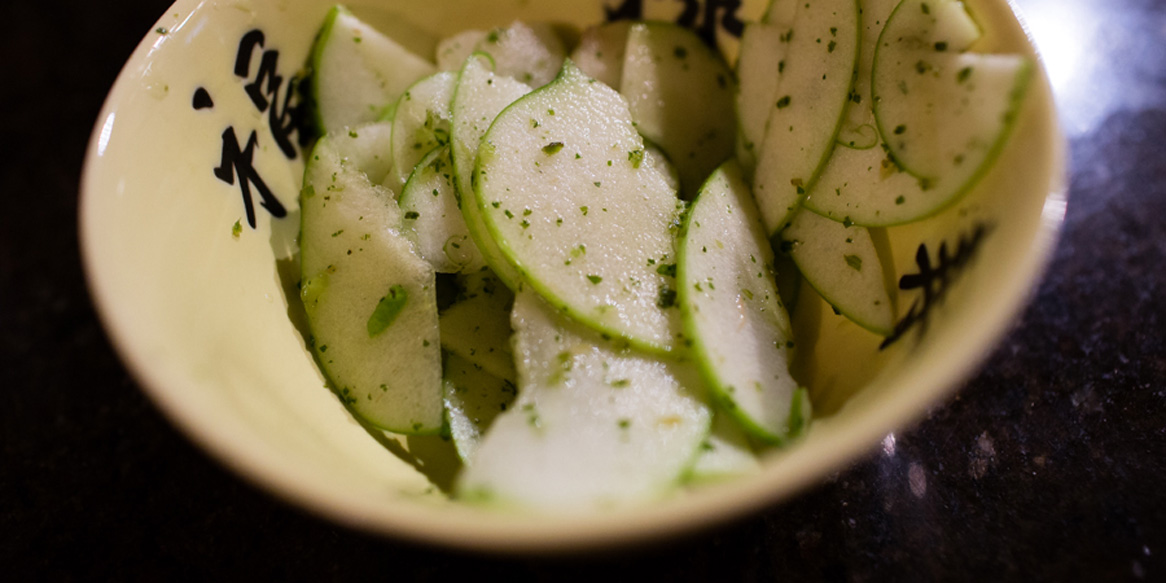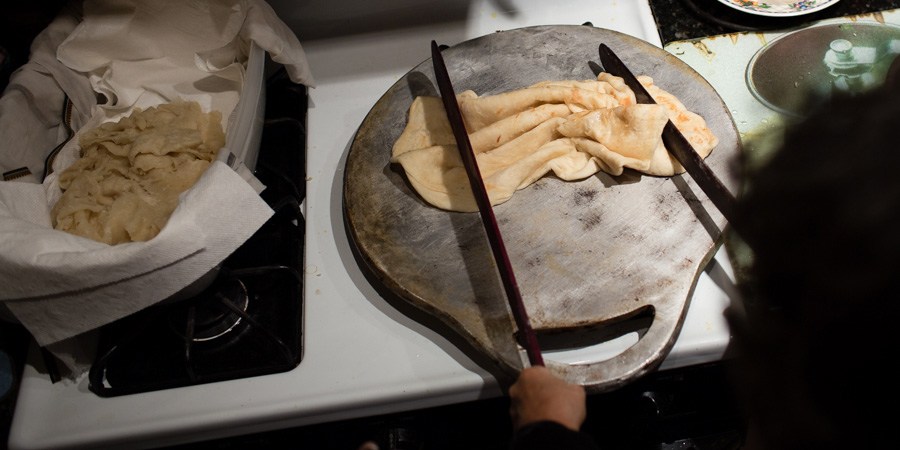 Cooking with Dolly:
Dolly always cooks for a crowd because her house is always filled with friends, family, and neighbors eager to feast on her cooking. Cooking and eating together, as a family and as a community, is central to Trinidadian culture, and you'll see that as her four exuberant children circle in and out of the kitchen, helping out and sharing their love of "Trini" culture. When you arrive, Dolly will welcome you to her home with traditional Trinidadian snacks and lunch fare, which may include katchourie, vegetable fritters made from yellow split pea and served with mango chutney, spicy macaroni pie, and an assortment of sweets. In her workshops, you'll learn to handle the key ingredients that comprise the backbone of Trinidadian cooking and the myriad of different ways they can be combined and cooked to create a variety of delicious dishes. Dolly cooks with the freshest possible ingredients, picking herbs and peppers from her backyard, and frequenting the many West Indian produce markets that line nearby Liberty Avenue. She uses many culturally specific and custom-made cooking tools, and you will cook with her in both her indoor and outdoor kitchens. At the end of the day you'll go home newly inspired with all the recipes and a shopping guide to Dolly's favorite food markets.
Note: Trinidadian food is renowned for its spiciness, and Dolly's food is no different; come to both of her workshops prepared to experience the heat!

Location: Dolly 's Kitchen in South Ozone Park, Queens

Transportation: Q7 bus Rockaway Blvd to 131 Street stop Q9 bus Rockaway Blvd to Lincoln Street stop Q10 bus 130th St to Sutter Ave

Accessibility: A few steps up to a first floor house.
"Taste of" Workshop
Veg
An exciting introduction to Trinidadian cuisine! This 2.5 hour workshop will begin with a warm welcome to Dolly's home, where she will great you with traditional Trinidadian snacks. You will learn to make channa and aloo, a dish of dried chickpeas soaked overnight, cooked with potato, and seasoned with turmeric, Madras curry powder, habaneros, and shado beni. You'll also learn to prepare Dolly's refreshing mango chow, siced mango tossed with green seasoning, habanero peppers, and salt. Dolly will also teach you to make her famous buss-up-shut roti, a buttery flatbread cooked over Dolly's custom-built tawa (griddle) and torn into flaky pieces with two large wood tablas (wooden paddles). Lastly, you'll sit down as a group and enjoy the delicious food you've made. You'll go home with a booklet of recipes and in-depth culinary info so that you can re-create these fantastic dishes at home.
* Food Allergies: This menu includes dairy and wheat.
Immersion Workshop #1
In Dolly's Immersion Workshop #1 you'll begin your day by marinating goat shoulder for curry goat in "green seasoning", a blend of herbs used in many Trinidadian dishes that includes parsley, thyme, shadon beni, and scallion. You'll head out to Dolly's outdoor kitchen and learn to stew the goat with habanero peppers, Madras curry powder, and turmeric to create tender meat in a flavorful gravy. Next, you'll learn to make buss-up-shut roti, a buttery flatbread cooked over Dolly's custom-built tawa (griddle) and torn into flaky pieces with two large wood tablas (wooden paddles). Roti is delicious on its own and is also used to scoop up vegetables, curries, and stews. You'll then learn to cook channa and aloo, a dish that Dolly says must be present at every Trini gathering. Dried chickpeas are soaked overnight and then cooked with chunks of potatoes to form a rich gravy, spiced with habaneros, turmeric, curry powder, and shado beni. Dolly will teach you to make a quick snack, mango chow, that is often enjoyed at parties and barbecues. Ripe, sliced mango is tossed with "green seasoning", pureed habanero peppers, and salt, to create a sweet, spicy, and salty treat. Finally, you'll learn to make dhal - Trini style - to round out the meal. Split yellow peas are seasoned with turmeric, garlic, toasted ground cumin, and green habanero and then pureed by hand into a thick soup.
Immersion Workshop #2
Veg
In Immersion Workshop #2 you will begin by heading out into Dolly's outdoor kitchen and learning to make buss-up-shut roti, a buttery flatbread cooked over a huge custom-built tawa (griddle) and torn up into flaky pieces with two large wooden tablas (wooden paddles). Roti is delicious on its own and is also used to scoop up vegetables, curries, and stews. You'll then prepare bhaji dasheen bush, a unique Trinidadian leafy green that is sauteed with okra, onion, garlic, and habaneros and cooked down into a creamy puree. Next you'll learn to make pumpkin, a curried butternut squash stewed with cumin, onion, garlic, and habanero. Then you'll make baigan and aloo, a favorite dish of Dolly's family, which is made with eggplant and potato and seasoned with Madras curry powder, onion, garlic,and habaneros. Finally, you'll learn to make the simple and quintessential Trinidadian snack, chow. Chow is sweet, salty, and spicy and can be made with many different fruits. You'll learn a version with tart green apples, green seasoning (a blend of fresh herbs and scallions), habaneros, lemon juice, and salt.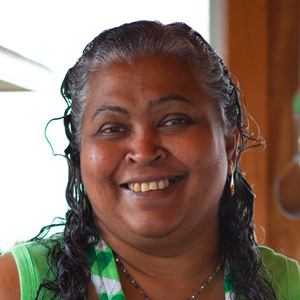 Dolly
Trinidad
"My parents taught me to always make a little extra food when I cook. You never know when someone might stop by and want something good to eat!"
Bio:
Dolly grew up in Trinidad and then lived in Canada and several states in the US before settling in South Ozone Park, Queens with her husband and four of their five children. She learned to cook from her mother as a young girl and now cooks traditional Trinidadian meals everyday in both her indoor and outdoor kitchens. Dolly loves to spend time in her backyard garden and grows several Trinidadian herbs and peppers to achieve the freshest possible flavor in her dishes. Cooking is a family and community affair in Trinidadian culture, with everyone cooking together at parties and barbecues known as "hangouts". Dolly often hosts parties and is known for making the most delicious food in the neighborhood. She also regularly cooks for celebrations at her temple and does informal catering for her community. In her free time, Dolly enjoys spending time with her family and decorating for special events.
What dish did you first learn to cook?
Roti. My mom would save a bit of dough at the very end and roll out a smaller roti for me to try to cook. She told me that I had to eat what I cooked, so that if I burned it, I would still have to eat it! My dad used to tell me, "don't worry, if you burn it, I will eat it for you."
Why do you love cooking?
I love seeing the expression of people whenever they're eating my food. If they smile or say it's good, it gives me a good feeling.
You have a nice garden in your backyard. What do you grow? Why do you enjoy gardening?
I grow cucumbers, hot peppers, lettuce, herbs, and flowers. When you eat things fresh, right after they are picked, it's a totally different taste. Even if you have a vegetable that is only a couple of days old, it will not taste the same as the one from your garden. When I was growing up, my mother had all the produce she needed to cook in our backyard. Grocery shopping was only for dry goods. We grew mangoes, breadfruit, jackfruit, peppers, eggplant, tomatoes, greens, herbs -- everything!
What students are saying about workshops with Dolly:
"
I absolutely loved Dolly's workshop. I feel like she made you feel at home. She was very warm and welcoming, and she spoke freely about her culture. The food was incredible. Overall I really enjoyed the experience and would like to attend others!
"
— Ming Y. 
"
Dolly's workshop was an absolutely pleasurable experience. The atmosphere was full of warmth and kindness. I have limited experience in the kitchen and was a little nervous, but that quickly dissipated with Dolly's great instruction and mellow demeanor. She was very thorough in answering our questions, and helped us to understand the techniques she used and why she used them. All of the food we made together, from the appetizers to the main dish, was very tasty. I'm glad I had the opportunity to spend a wonderful afternoon in Dolly's kitchen, learning and experiencing new tastes my palate will never forget!
"
— Jovan M.
"
It was fun to enter Dolly's home and feel like "one of the family"—her four kids were hanging out and listening to music, and it felt like a typical Sunday afternoon. I enjoyed asking Dolly questions and learning about her life in Trinidad and how she learned to cook. She was quite no-nonsense, which made me feel even more at ease—no awkwardness at all. And the food was incredible! She even dictated the recipes for the dishes she served for the welcome lunch, which was prepared in advance, and was extremely generous with letting us take home leftovers. I had a fantastic time and would definitely take another workshop.
"
— Susannah S.