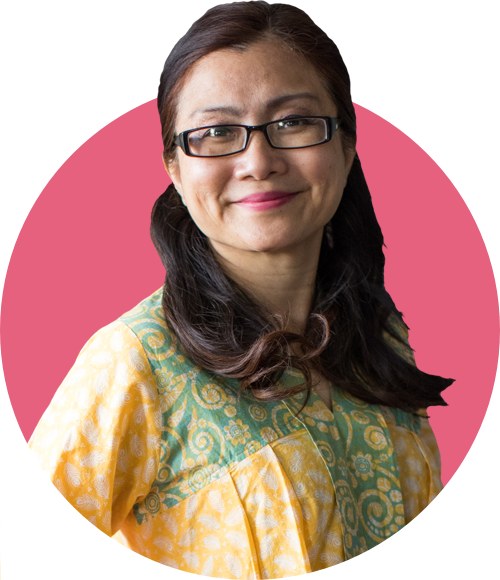 Indonesian Cooking Online
Learn to make a rich and fragrant coconut curry with shrimp and potatoes and a festive and aromatic yellow rice dish!
Sunday, May 30
4pm-6:30pm (EDT)
This workshop will take place online.






| | |
| --- | --- |
| | $60 per device (laptop/tablet/etc) |
| | All ages! |
All
Online
cooking classes include interactive cooking instruction, a virtual dinner party, a packet with the instructor's family recipes, and a video recording of the class. Since the price is per device, feel free to invite your partner, kids, or roommates to join!
Since Shandra can't physically welcome you into her home, she wants to do so virtually!
Our online classes are designed to be special, meaningful opportunities to share cooking, culture, and connection--just like our real life experiences. We want you to cook along, and we promise there will be plenty of time for questions, conversation, and stories. It will all end with a virtual dinner party where you'll get to share in the fruits of your labor, apart, but together!
In this 2.5 hour interactive online experience Shandra will guide you through making two of her family recipes: Gulai Udang Ala Padang (a rich and fragrant shrimp and potato curry made with coconut milk, lemongrass, ginger, shallots, garlic, fresh turmeric, chilis, lime leaves, and galangal) and Nasi Kuning (an aromatic jasmine rice dish cooked in coconut milk, seasoned with lemongrass, pandan leaves, bay leaves, lime leaves, and turmeric, topped with fried shallots and slivered egg omelette).
Here's how it works:
After registration you'll receive an email with the Zoom link, shopping list, equipment list, and recipe packet.
At the scheduled time of your class, you'll click on the Zoom link and join your class live! Afterwards, you will receive a link to a video recording of your class that you can revisit at your leisure.
Shopping List for This Class
One 1 ½-inch long by ½-inch wide piece of ginger (about .7 ounces)
One 3-inch long by ½-inch wide piece of fresh turmeric (about .8 ounces)
6 small cloves garlic
Two 6-inch pieces of fresh lemongrass stems
5 medium shallots (4 large or 6 small)
3 medium Yukon gold potatoes (about 1 pound)
½ to 1 long red chile pepper (to your desired heat level)
2 Persian cucumbers
1 lime
5 fresh lime leaves or rind of a lime
2 cups jasmine rice
Two 14-ounce cans coconut milk (preferably a Thai brand, not Goya), not shaken
6 candlenuts or blanched hazelnuts or blanched almonds
4 to 5 large Indian bay leaves
1/2 teaspoon coriander powder
1 teaspoon turmeric powder
1 ½ pounds large shrimp: shelled with tail left on, deveined
2 large eggs
Vegetable or coconut oil
Fine salt
Sugar