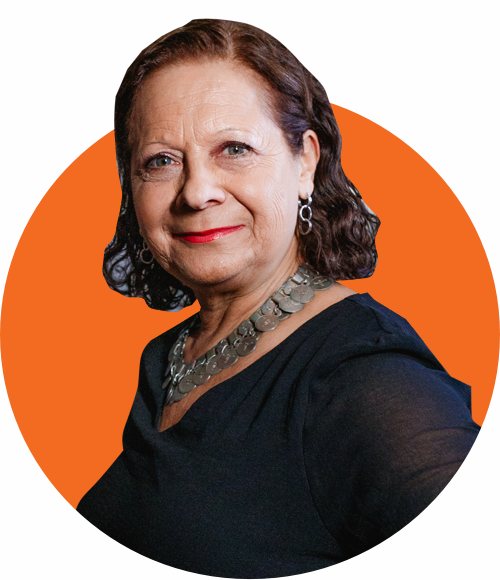 Meet Mirta
From
Argentina
. Lives in
Forest Hills, Queens
.
Mirta was born in the mountainous region of Mendoza, Argentina, known for its wines and gorgeous landscapes. She grew up learning to cook from her grandmother, who cooked in their family-owned hotel in Mendoza before Mirta was born, as well as from her Argentinian mother, her aunts, and her Italian father. Mirta moved to the US with her husband in 1975 and has lived in NYC with her family ever since. After a colorful career of planning elaborate events for world leaders, politicians, musicians, and actors, she went on to develop her own line of artisanal membrillo and Argentinian sweets, which she now makes and distributes to restaurants and shops in the tri-state area.
Mirta's adventurous spirit is reflected in her creative and playful approach to cooking, which has been captured by Oprah Magazine, the New York Times, Food & Wine, CBS New York, and others. When she's not cooking, Mirta loves to pursue her passions for art and music. She enjoys making masks and collecting Argentinian art, and she inherited her Italian grandfather's love for opera.
Mirta's zest for life and passion for her country will immediately impress you as she welcomes you to her art-filled home. She will greet you with a hot cup of mate, the traditional herbal tea of Argentina, along with an assortment of snacks, which may include toasted Argentinian bread, artisanal cheeses and charcuterie from her local Argentinian butcher, and her homemade dulce de membrillo (quince paste and jelly). Mirta will then lead you through the mate ceremony, which will incorporate her gorgeous collection of handmade mate cups and utensils. Then, you will follow Mirta into the kitchen where the lesson will begin.
"
It was nothing short of exceptional - Mirta was the most amazing, genuine host, and the food and cultural sharing made the experience. It was one of my favorite, most memorable days in the past six months. I cannot rave enough about how extraordinary the experience was, in large part due to Mirta.
"
Tarin A.