Argentinian Cooking with Mirta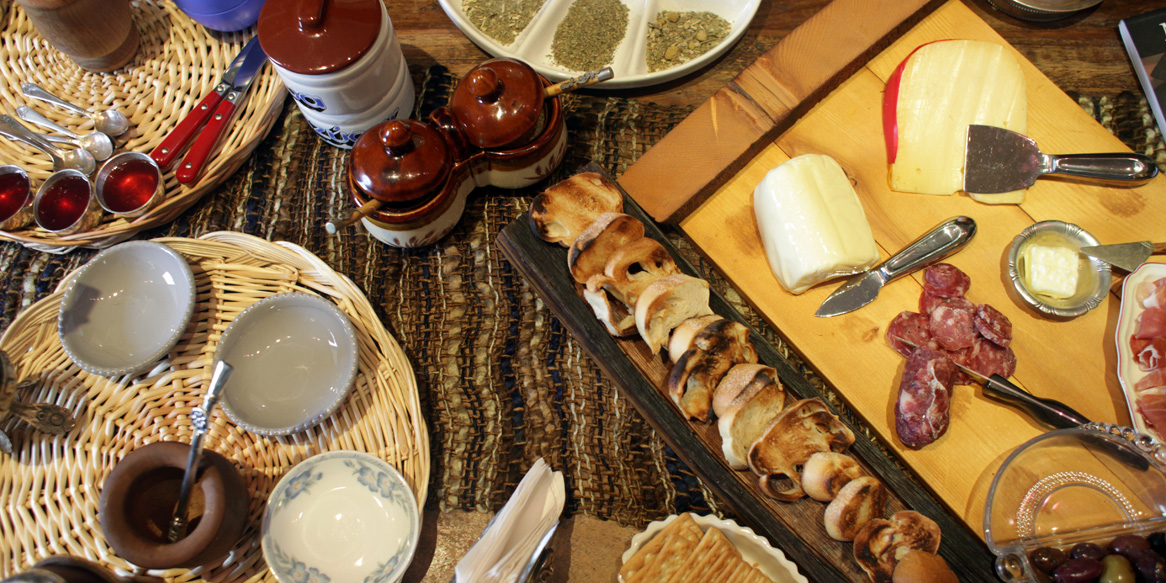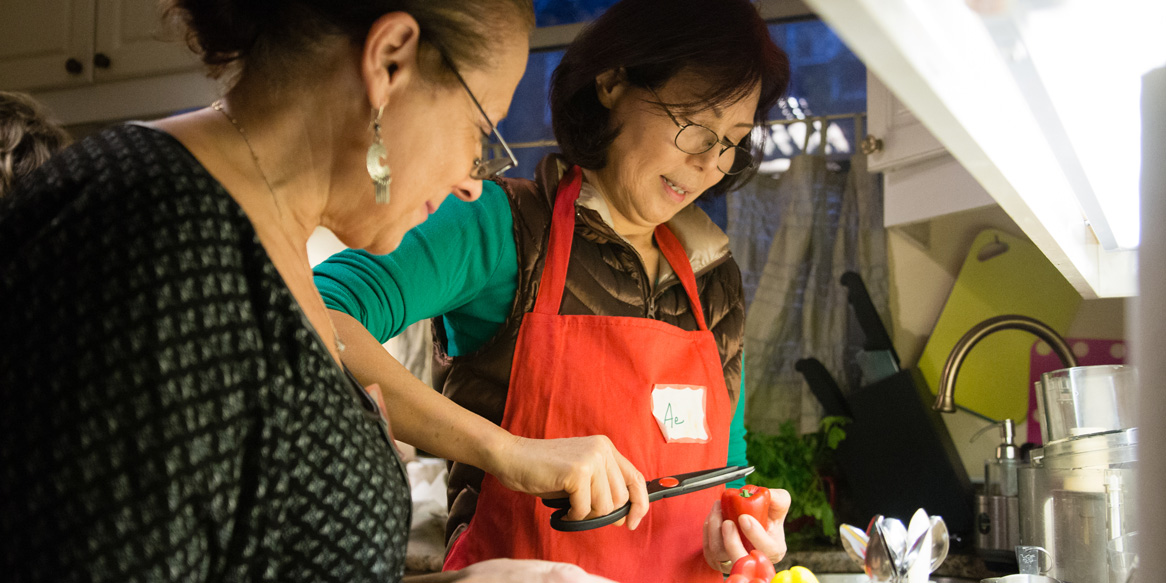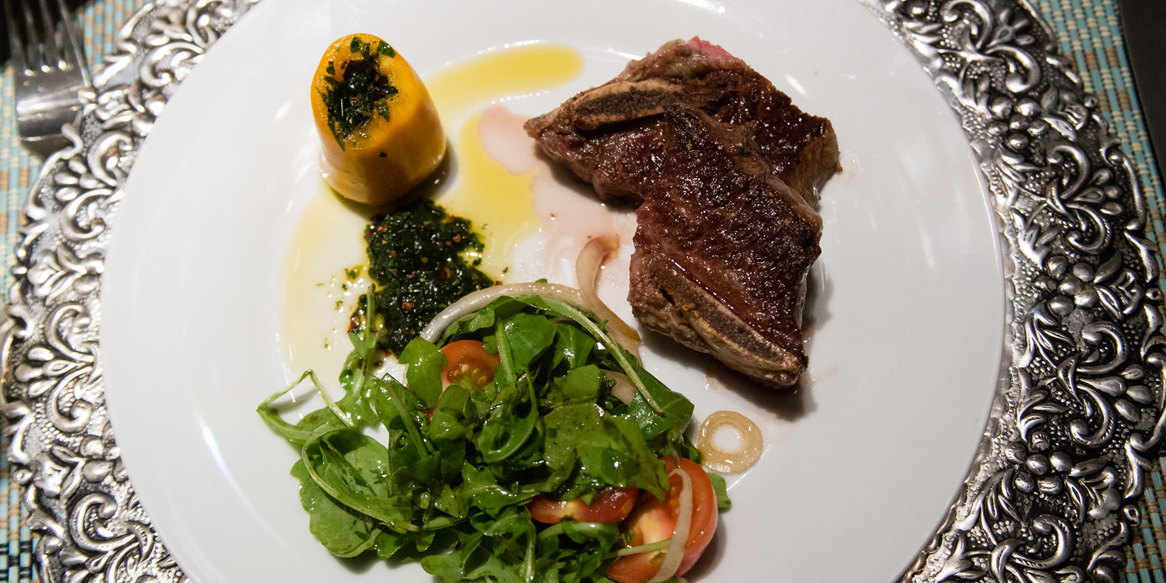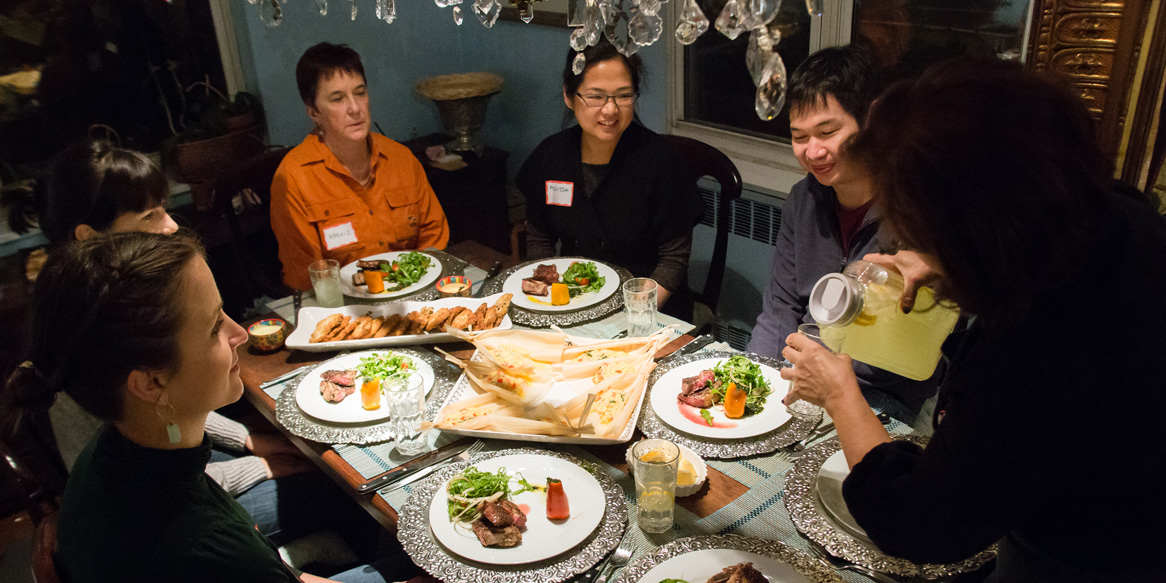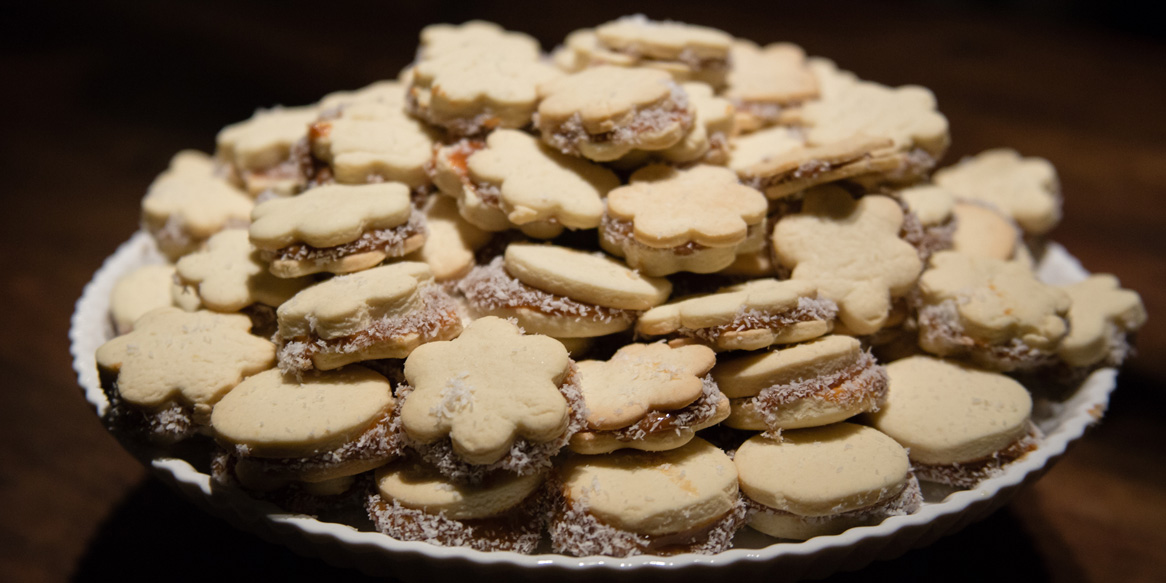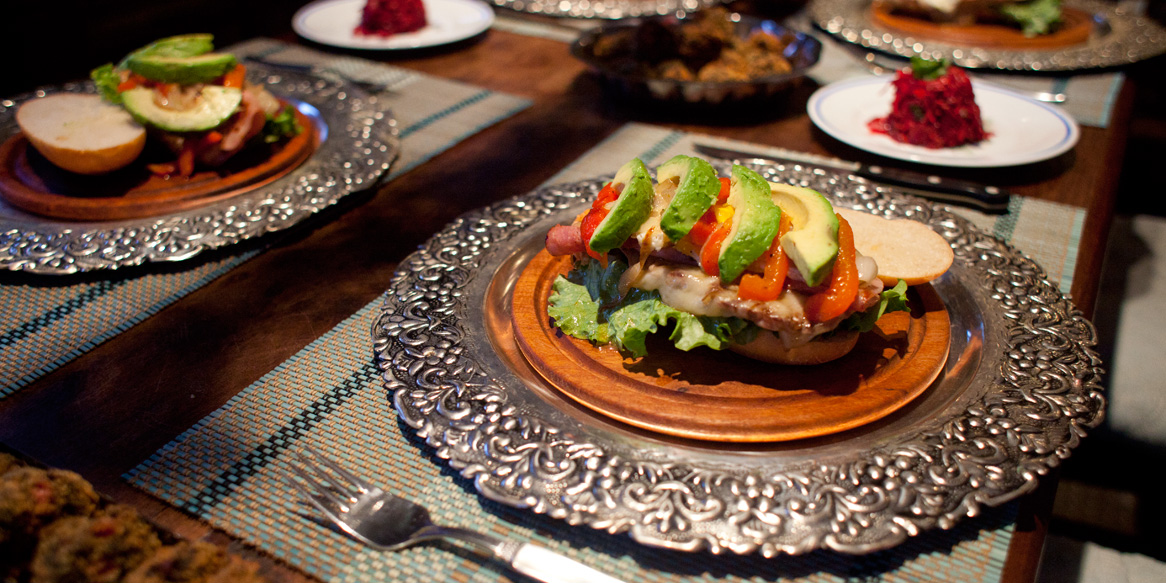 Upcoming Workshops:
Tuesday, Sep 25 | 7pm-9:30pm
3 spots available
$120
Friday, Sep 28 | 11am-1:30pm
6 spots available
$120
Sunday, Oct 21 | 1pm-5:30pm
2 spots available
Immersion Workshop #1

$175
Wednesday, Oct 24 | 11am-1:30pm
6 spots available
$120
Sunday, Oct 28 | 1pm-5:30pm
4 spots available
Immersion Workshop #3

$175
Saturday, Nov 3 | 1pm-5:30pm
Sorry, workshop is full!
Immersion Workshop #1

$175
Friday, Nov 9 | 7pm-9:30pm
6 spots available
$120
Saturday, Nov 17 | 1pm-5:30pm
6 spots available
Immersion Workshop #2

$175
Tuesday, Nov 27 | 7pm-9:30pm
6 spots available
$120
All immersion workshops include a light lunch and beverage, 3.5 hours of hands-on cooking instruction, a full dinner, and a booklet of recipes and in-depth culinary info.

All "taste of" workshops include a welcome-snack and beverage, 1.5 hours of hands-on cooking instruction, a small meal, and a booklet of recipes and in-depth culinary info.
Cooking with Mirta:
Mirta's zest for life and passion for her country of Argentina will immediately impress you as she welcomes you to her art-filled home. She will greet you with a hot cup of mate, the traditional herbal tea of Argentina, along with an assortment of snacks, which may include toasted Argentinian bread, artisanal cheeses and charcuterie from her local Argentinian butcher, and her homemade dulce de membrillo (quince paste and jelly). She will then lead you through the mate ceremony, which will incorporate her gorgeous collection of handmade mate cups and utensils. Mirta learned to cook while growing up in the mountainous wine country of Mendoza and was influenced by her family's Spanish and Italian heritage. Her artistry and love of cooking shines through in all of her dishes, which are each presented beautifully and with a deep respect for the history and traditions behind them. At the end of the day you'll go home newly inspired with all the recipes and a shopping guide to Mirta's favorite food markets.

Location: Mirta's Kitchen in Forest HIlls, Queens

Transportation: Forest Hills - 71st Ave / Continental (E/F/M/R)

Accessibility: Second floor apartment accessible by elevator or stairs.
"Taste of" Workshop
Veg
An exciting intro to Argentinian cuisine! This 2.5 hour workshop starts off with a warm welcome to Mirta's home, where she will lead you through the mate tea ceremony and introduce you to an assortment of traditional snacks. You will learn to prepare hongos con provolone - portabello mushrooms marinated in Mirta's own chimichurri sauce and topped with melted provolone cheese. You will also learn how to make humitas, a sweet and savory corn pudding made with fresh corn shaved from the cob, onion, pepper, tomato, and fresh basil. For a sweet finish, you'll learn to prepare Mirta's famous alfajores, delicate butter cookies flavored with vanilla and lemon, filled with caramel-like dulce de leche, and rolled in shredded coconut. Finally you'll sit down together as a group and enjoy the meal you've made! You'll go home with a booklet of recipes and in-depth culinary info so that you can re-create these delicious dishes at home.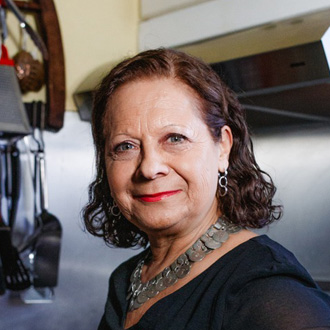 Mirta
Argentina
" I love to imitate my mom's cooking, sprinkle in culture, and preserve traditions."
Bio:
Mirta was born in the mountainous region of Mendoza, Argentina, which is most well-known for its wines and gorgeous landscapes. She grew up learning to cook from her grandmother, who cooked for a family-owned hotel in Mendoza, as well as from her Argentinian mother and Italian father. Mirta moved to the US in 1975 and has lived in NYC with her daughter ever since. For many years she worked as the personal assistant to a songwriter and philanthropist, planning and managing elaborate events for world leaders, politicians, musicians, and actors. Later in life, Mirta developed her own line of artisanal membrillo (quince paste and jelly) and Argentinian sweets, and she now makes and distributes them to restaurants and shops in the tri-state area. When she's not cooking, Mirta loves to pursue her passions for art and music. She enjoys making masks and collecting Argentinian art, and she inherited her Italian grandfather's love for opera.
Why do you love to cook?
I am an artist, and cooking is my primary art form. I create every time I cook. Cooking is also an integral part of my culture; it was always there.
What is your cooking philosophy?
I like planning an exact menu to create a meal. I enjoy being adventurous with food and love to explore new cuisines. I try to imitate dishes I've tried in other places and to create my own versions.
What makes Argentinian cuisine special?
It all revolves around asado, which means barbecue. This is unique and comes from the culture of the gauchos, or the cowboys. Also, in Argentina, it is always a good time to stop for mate, a traditional herbal tea that is also the national drink. We usually enjoy snacks with mate before or after a barbecue. Argentinians respect the culinary legacy of the country.
What students are saying about workshops with Mirta:
"
Mirta's class was awesome! The ingredients were fresh, the cooking was great... but Mirta herself is a rockstar. She is such a wonderful and open person, in addition to being an incredible chef, and it's amazing to see such candor in someone. I would easily recommend this class to everyone I know, and have thus far told my entire office about it. So great. I will be sure to sign up for future classes.
"
— Sam F.
"
It was nothing short of exceptional - Mirta was the most amazing, genuine host, and the food and cultural sharing made the experience. It was one of my favorite, most memorable days in the past six months. I cannot rave enough about how extraordinary the experience was, in large part due to Mirta.
"
— Tarin A.
"
It was amazing workshop. I really enjoyed the experience and learned a lot from Mirta about cooking and about her culture. She learned to cook from family traditions and has adapted those recipes in her own style. She is both a great chef and teacher and has a lot of experience and knowledge to share. I recently traveled around Argentina for two weeks, but I learned more about Argentinian food in Mirta's class than I did during my travels!
"
— Ae K.
"
We cooked an awesome menu and cannot rave enough about this experience. Our Chef instructor Mirta is one of those wonderful people who touches your life in a way that is profound and unexpected. I did not anticipate our League of Kitchens workshop to be a life experience, but that is exactly what it was, and it was because of Mirta. Mirta ushered us into her home and immediately welcomed us into her culture!
"
— Caitlin Y.
"
I LOVED the workshop and Mirta! She was so warm and welcoming and the food was absolutely DELICIOUS! Mirta immediately greeted me at her door with a hug and told us about her culture, her family, her art, etc. She is a natural entertainer and really transported you to Mendoza through her stories and pictures. Her home was beautiful and full of stories. The food was absolutely delicious and Mirta really made the recipes easy to follow. She also interspersed tips and tricks throughout the cooking process and that was great. The whole workshop was really enjoyable and I am definitely going to recommend it to friends and family.
"
— Alfia A.
"
Mirta welcomed us into her home as if we were already friends. She spoke about her culture and her life from the heart and it came across in her expertly-shared cooking instructions as well. From beginning to end, it was a very well-timed mix of preparation, cooking, eating, talking and relaxing. All of the dishes we made were authentic and delicious. I cannot wait to share the experience of making the recipes at my home with family/friends. I will be highly recommending League of Kitchens to everyone I know. For the cost of this class, I felt I got a tremendous value in return in terms of the overall experience and both the quantity and quality of the food. I cannot wait to take another League of Kitchens class soon...I know my friend has already signed up for one! Thank you so much for making this concept a reality...it was one of the best experiences I've ever had!
"
— Katie K.