Greek Cooking with Despina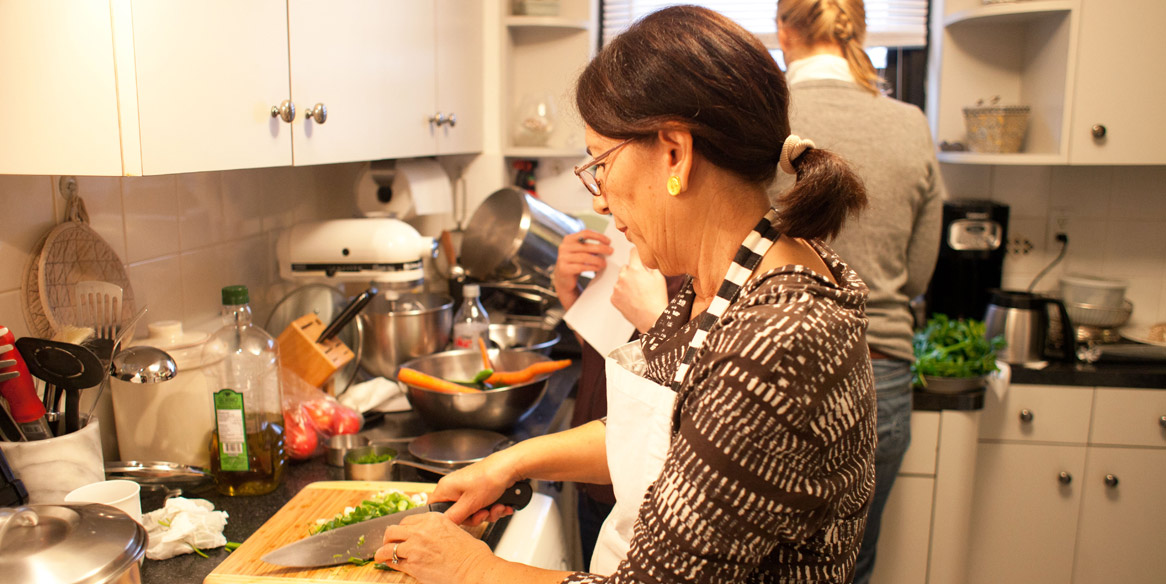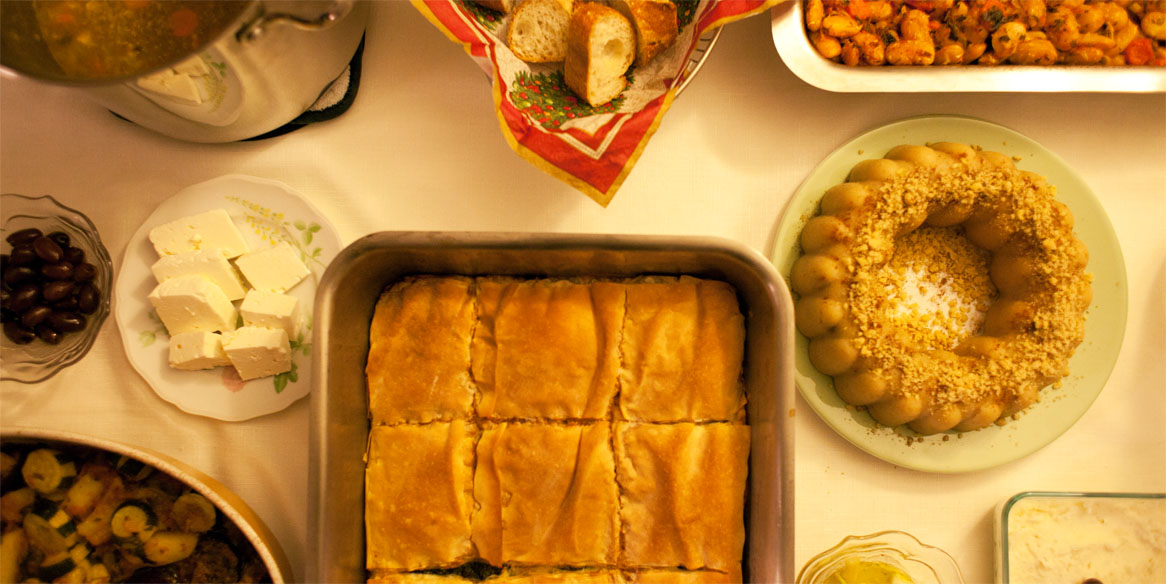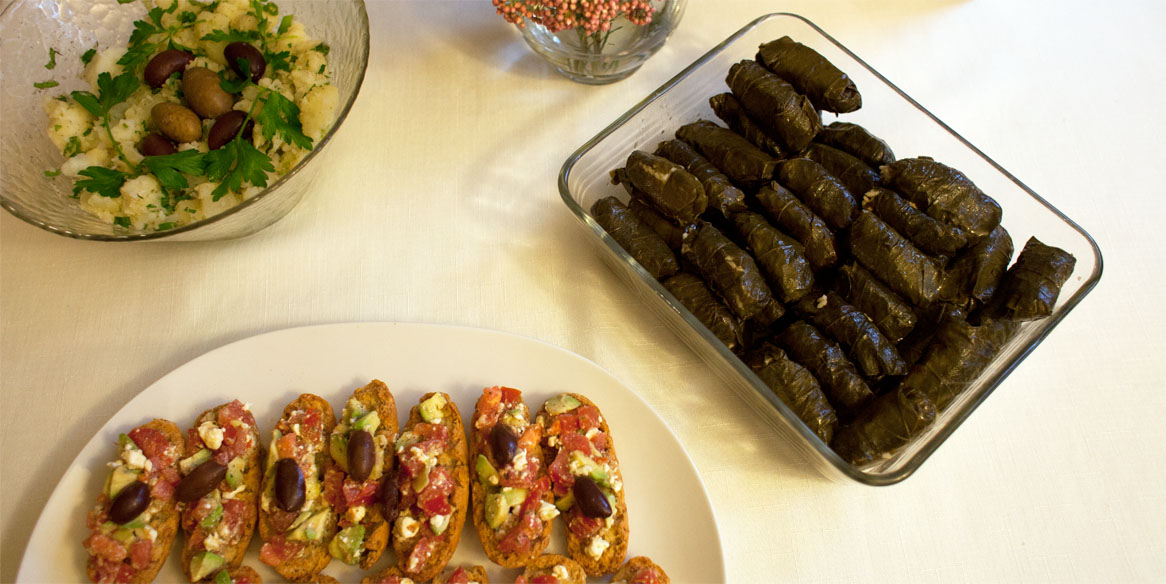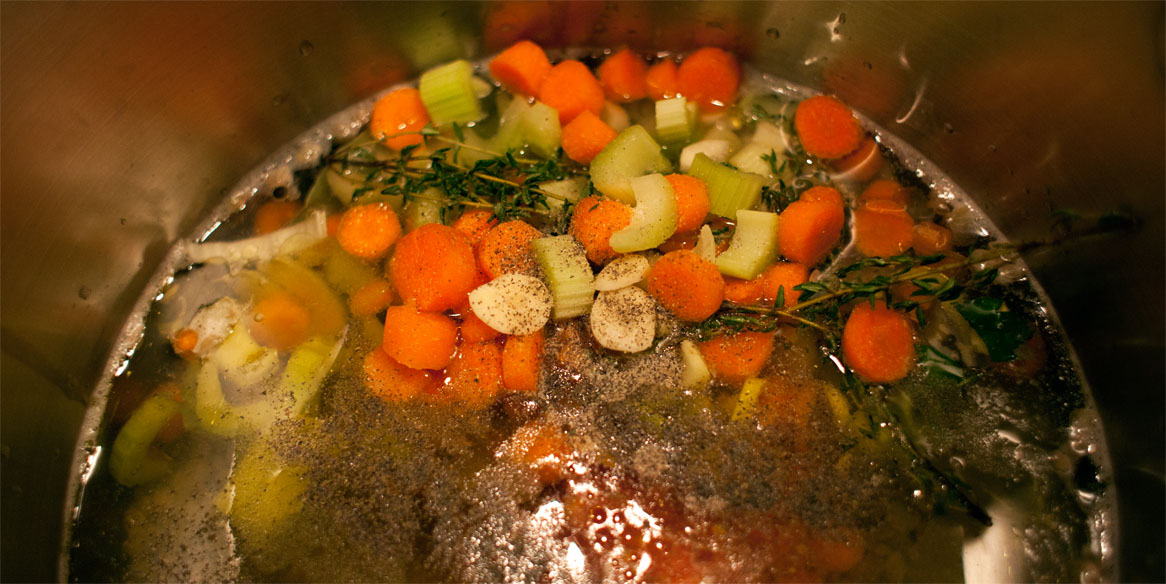 Upcoming Workshops:
Saturday, Sep 22 | 1pm-3:30pm
1 spot available
"Taste of..." Workshop #1
Veg
$120
Saturday, Sep 29 | 1pm-3:30pm
Sorry, workshop is full!
"Taste of..." Workshop #2

$120
Saturday, Oct 13 | 1pm-3:30pm
Sorry, workshop is full!
"Taste of..." Workshop #1
Veg
$120
Saturday, Oct 20 | 1pm-3:30pm
Sorry, workshop is full!
"Taste of..." Workshop #2

$120
All immersion workshops include a light lunch and beverage, 3.5 hours of hands-on cooking instruction, a full dinner, and a booklet of recipes and in-depth culinary info.

All "taste of" workshops include a welcome-snack and beverage, 1.5 hours of hands-on cooking instruction, a small meal, and a booklet of recipes and in-depth culinary info.
Cooking with Despina:
With an easy, warm manner, and a boundless enthusiasm for cooking, Despina will inspire you from the moment you enter her home. The beauty of Despina's cooking lies in its simplicity and its reliance on the freshest ingredients. You will sit down to a welcome snack of seasonal Greek appetizers, such as Despina's tangy, succulent stuffed grape leaves, which she will encourage you to dip in yogurt, and her bright, fresh potato salad. She will serve you Greek mountain tea, a medicinal herbal tea with a mild mint flavor that grows wild in Greece. At the end of the day you'll go home newly inspired with all the recipes and a shopping guide to Despina's favorite food markets.

Location: Despina's Kitchen in Sunnyside, Queens

Transportation: 40th st (7)

Accessibility: Elevator Available
"Taste of..." Workshop #1
Veg
"Taste of..." Workshop #2
Immersion Workshop #1
In Workshop #1 (Non-Vegetarian) you'll learn to make keftedes, light and savory beef meatballs. Then you'll mix up a fresh batch of tzatziki, a bright cucumber yogurt sauce for dipping. When you make spanakopita, you'll learn how lots of fresh dill, scallions, and Despina's favorite Arachova feta cheese, add a unique fresh zing to this comforting dish, and you'll learn how to handle phyllo dough to make the crispest golden crust. Garides me to rizi, shrimp cooked with grated tomato, garlic, scallions, and rice, is an easy, delicious one pot dish that truly highlights the flavor of the shrimp. As a side dish, depending on the season, you'll either make horta, boiled leafy greens, like bitter chicory or dandelion greens, which get simply dressed with the best Greek olive oil and freshly squeezed lemon juice, or the freshest Greek salad, made only with tomato wedges, shaved red onion, Kalamata olives, and crumbled feta cheese, dressed in olive oil and red wine vinegar. At the end, you'll learn to make kourampiedes, the famous sugar-dusted Greek almond cookies which are especially popular at Christmas.
Immersion Workshop #2
Veg
In Workshop #2 (Vegetarian), you will learn to make tourlou, a savory baked vegetable dish where large cuts of zucchini, potato, and eggplant, sprinkled with lots of fresh thyme and olive oil, slowly cook in their own juices. When you make faki, lentil soup, you will see how a just a few concentrated ingredients like tomato, fresh thyme, and red wine vinegar give it memorable flavor. You will also appreciate why Despina loves to cook with hearty gigante beans, and how the proper method of cooking them gives them their perfectly smooth texture. Tiropita, a cheese pie filled with feta, ricotta, and eggs, and topped with golden phyllo, is a delicious hearty accompaniment to the vegetable dishes. For a sweet you will make Despina's special halva, a beautiful semolina cake made with cinnamon and clove spiced milk and golden raisins, topped with ground walnuts and cinnamon.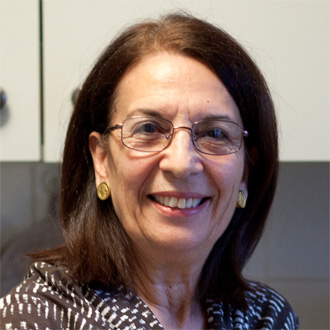 Despina
Greece
"Cooking is an art. It's an amazing part of my day, always."
Bio:
Despina has a huge enthusiasm for using the freshest ingredients in her cooking. Perhaps she was inspired by the fig, pear, and pomegranate trees that grew in her childhood backyard, or maybe it was the access to the freshest fish in her coastal hometown of Chalkis, Greece. Despina moved to the U.S. in the 1970s, where she worked as a registered nurse for over forty years. Despina is married and has two daughters. Her love of home cooking has rubbed off on her older daughter, who started Boubouki, a Greek food stand at the Essex Street Market. In addition to cooking, Despina loves to draw and paint.
Why do you feel strongly about fresh ingredients?
I don't buy packages at all. They have a thousand ingredients harmful to humans. Fresh tastes so much better, and I think the vitamins are there. You have to know what you're eating, and the only way to do that, really, is to cook from scratch. I don't even freeze anything! I have some lima beans in my freezer. That's it.
Do you remember the first dish you ever cooked?
It was a ground meat dish that my father used to make often. He showed me how to make it, with fresh tomatoes and parsley and a little wine sauce. Simple and delicious. All the men in my family were cooks!
Why do you love cooking?
It's like therapy. I forget everything when I cook. It's just part of my daily routine. One of the first things I think of when I wake up is, what should I make for dinner?
What students are saying about workshops with Despina:
"
I cannot say enough good things about Despina's cooking class. She makes you feel comfortable the second you walk into her home, and she makes it easy to take part -- even for people like me who never cook. If you have any interest in learning how to cook Greek meals, I'd highly recommend you take her session. Actions speak louder than words, though, and I loved the League of Kitchens experience so much that I'm going back with my mom to learn how to cook Indian food in the near future.
"
— Madeline C.
"
Despina's Greek cooking workshop was a unique and memorable experience. I had a wonderful time and learned a lot of useful tips for cooking Greek cuisine at home. The casual confidence and calmness that Despina possessed while whipping up an array of what seemed to me like complex dishes taught me that cooking is not just a collection of measurements and precise instructions, but rather a relaxing, fun, and creative activity that doesn't need to be stressful. The food was better than any Greek restaurant I've been to in America, and seeing how she kept organized in her small kitchen inspired me to make more use of my NYC kitchen as well. Thank you for a great experience!
"
— Liana L.
"
I spent a very educational and fun afternoon taking the vegetarian Greek cooking class with Despina. Despina is an excellent home cook who welcomed us with her hospitality and was a very good teacher. It was a treat also to be in her home. I will definitely take another class through the League of Kitchens. It's a very special experience unlike any other cooking class I have ever taken - and I have taken many.
"
— L. Crawford
"
Despina & the League of Kitchens allowed me to do a few of my favorite things all at once: eat amazing food, learn how to cook that food for myself, visit a new NYC neighborhood, and meet some fabulous new people! The food was delicious--from the lunch at the beginning to the nibbling along the way to the wonderful collectively cooked meal that capped the day to the yummy take home cooking kit. Despina made it easy and allowed us to try our hand at each step so we can actually do this at home ourselves. She also shared wonderful stories about Greece and shopping tips right here in NYC. I can't wait to make a wonderful Greek meal at my next dinner party (next week!)... and to try other League classes!
"
— Kemi I.