Indian Cooking with Yamini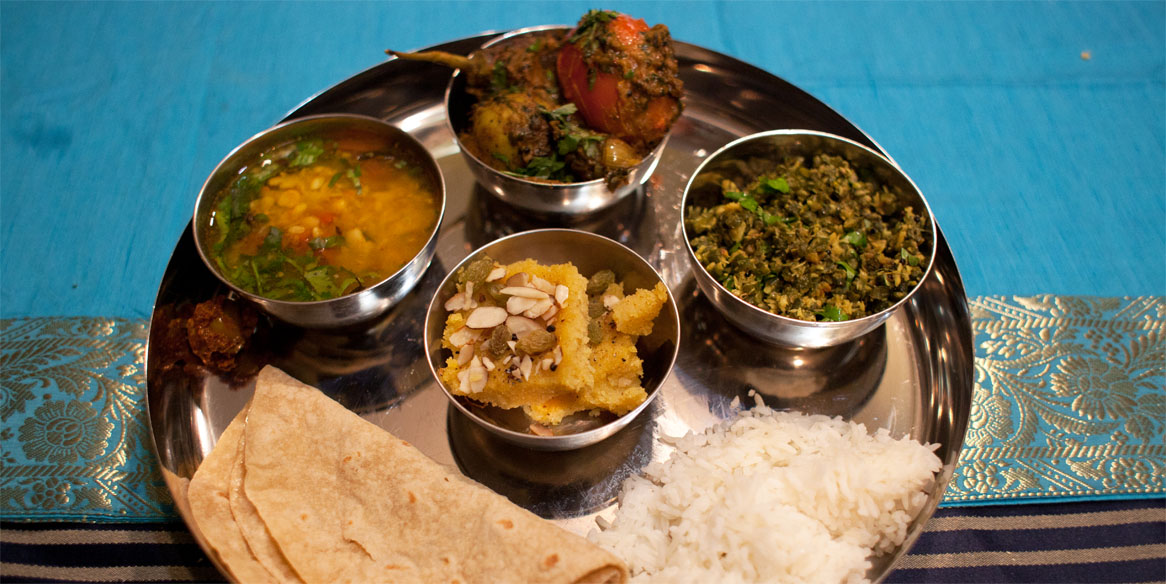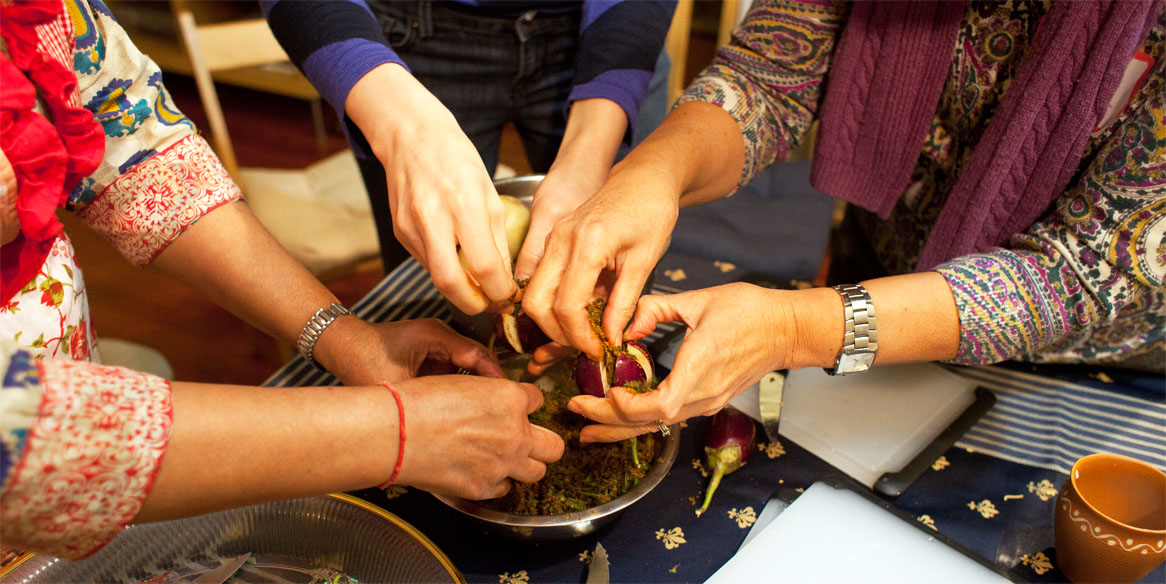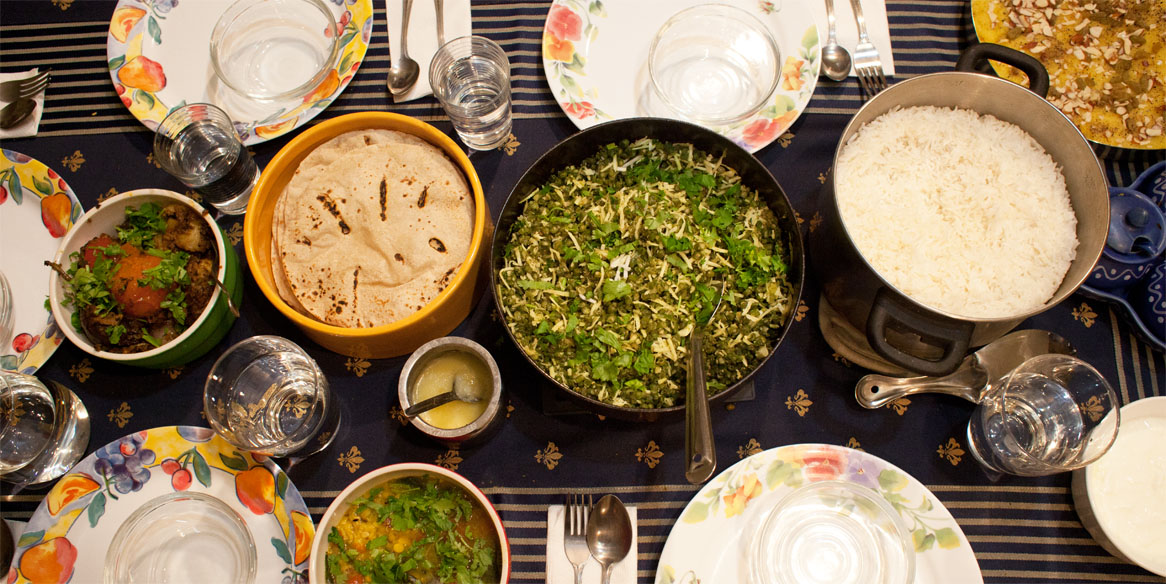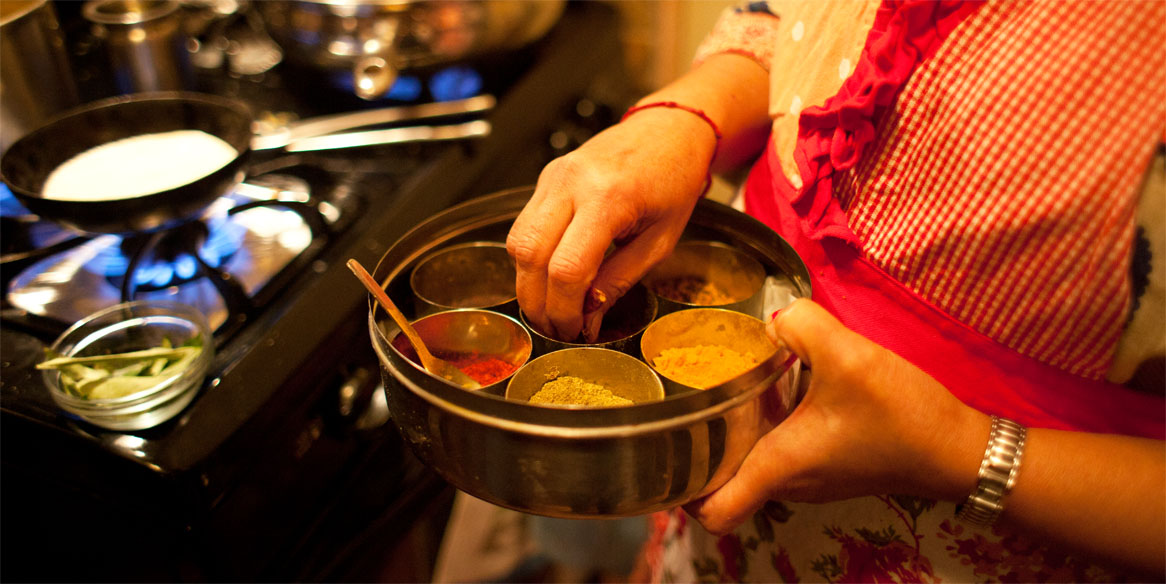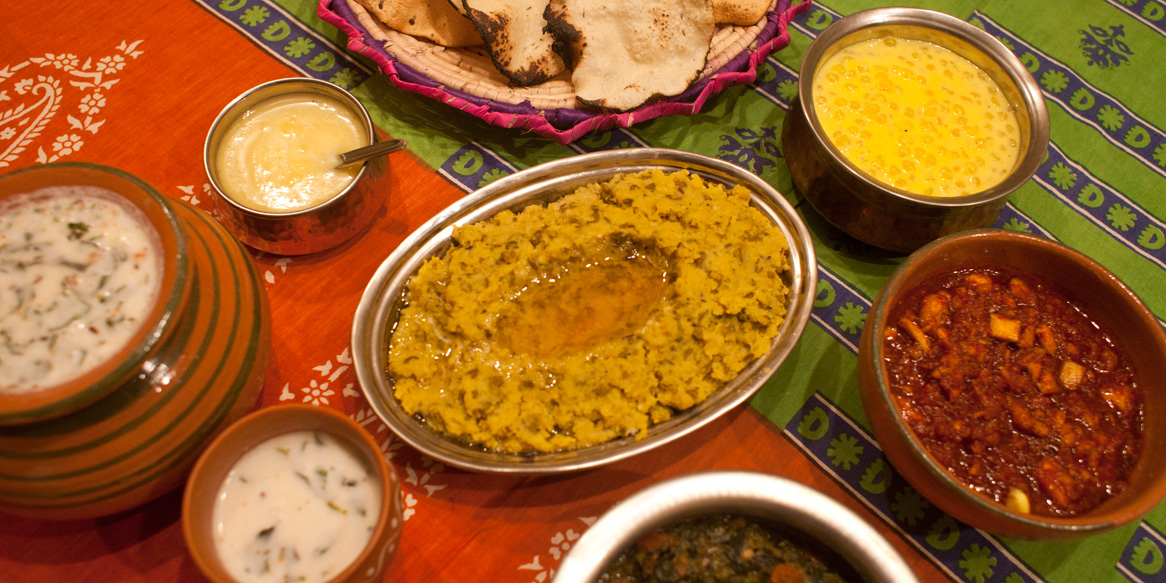 Upcoming Workshops:
Sunday, Sep 2 | 1pm-6:30pm
1 spot available
$175
Friday, Sep 7 | 6:30pm-9pm
6 spots available
"Taste of..." Workshop
Veg
$120
Sunday, Sep 23 | 1pm-3:30pm
6 spots available
"Taste of..." Workshop
Veg
$120
Sunday, Oct 7 | 1pm-6:30pm
6 spots available
$175
Sunday, Oct 14 | 1pm-6:30pm
6 spots available
$175
Friday, Oct 19 | 6:30pm-9pm
6 spots available
"Taste of..." Workshop
Veg
$120
All immersion workshops include a light lunch and beverage, 3.5 hours of hands-on cooking instruction, a full dinner, and a booklet of recipes and in-depth culinary info.

All "taste of" workshops include a welcome-snack and beverage, 1.5 hours of hands-on cooking instruction, a small meal, and a booklet of recipes and in-depth culinary info.
Cooking with Yamini:
Yamini's sunny, spiritual nature will instantly make you feel welcome in her home. Whether she's teaching you the proper way to handle spices or how to roll a perfectly circular roti, you will be inspired by her passion for cooking and her commitment to making everything from scratch. When you arrive, Yamini will serve her homemade chai and a selection of delicious, seasonal Indian treats, which may include her uttapam served with homemade cilantro chutney, and her spiced chickpea cakes made with fresh curry leaves and mustard seeds, and served with pomegranate seeds. Yamini is deeply knowledgeable about cooking from many regions of India, and she will impress you with her encyclopedic knowledge of spices, techniques, tools, recipes, and traditions. At the end of the day you'll go home newly inspired with all the recipes and a shopping guide to Yamini's favorite food markets.

Location: Yamini's Kitchen in Kew Gardens, Queens

Transportation: About a 10 min. walk from the Kew Gardens/Union Turnpike E/F stop

Accessibility: Elevator available
"Taste of..." Workshop
Veg
Immersion Workshop #1
Veg
At the start of the cooking day, you will learn how to make homemade ghee, clarified butter, which you will then use to make shira, a sweet semolina dessert seasoned with cardamom and saffron and topped with green raisins and almonds. Yamini's Hindu faith plays an important role in her cooking and in her kitchen. You will learn about this close relationship when Yamini makes an offering with the shira, placing it on the small altar in her hallway and saying a brief prayer. When you prepare the hearty, warming dal, you will learn the art of preparing tarka, the hot oil and spice mixture that is a key element of many Indian dishes. And for an impressive, central dish, you will learn to make sambhariya, a dish of baby eggplants, potatoes, tomatoes, and shallots, stuffed with a mixture of toasted chickpea flour, red chili powder, turmeric, garam masala, and fresh cilantro, which Yamini learned from her father. Lastly, you will learn to make perfect basmati rice and hot fresh rotis, flatbreads, to accompany your meal.
Immersion Workshop #2
Veg
During Yamini's Immersion Workshop #2, you will learn to make a typical South Indian meal that features dosas, thin pancakes made from a tangy rice and lentil batter, which are filled with spiced potato and served with an accompanying stew and chutneys for dipping. You will first learn to make sambar, a spiced stew of vegetables and pigeon peas. Sambar's signature flavor comes from sambar masala, a mixture that Yamini makes from scratch by roasting and grinding lentils, sesame seeds, and spices. She makes her sambar special by adding a unique combination of Indian vegetables, including bottle gourd and drum stick. Yamini will then teach you how to cook the potato masala filling for the dosas, a potato mixture stir fried with onion, ginger, curry leaves, and spices. Yamini's husband always requested extra red chutney - a flavorful blend of red chili, garlic, tamarind and spices - to eat with his dosas. You will learn to prepare both red chutney and coconut chutney made with fresh coconut, cilantro, and ginger, and topped with a tarka, spices roasted in hot ghee (toasted, clarified butter). Dessert is often an integral part of the savory meal in Indian culture, and Yamini loves serving vermicelli kheer, a creamy milk and noodle pudding spiced with cardamom. Dosas are best eaten immediately when they're hot and crispy, so you will cook your dosas last, just before enjoying your South Indian feast.
Immersion Workshop #3
Veg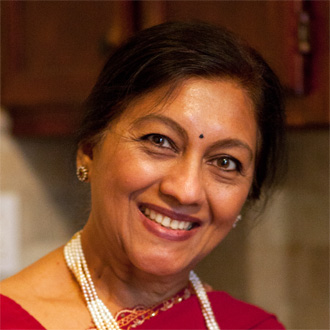 Yamini
India
"I like to share when I am eating. I have to feed everyone at least one spoon, then I can eat. That is my nature."
Bio:
Born and raised in Mumbai, Yamini started cooking with her parents when she was ten years old. She remembers watching her father cook for the large religious festivals her family attended, as the women weren't allowed to cook for them. She moved to Kew Gardens, Queens with her husband and three daughters in 1999 and has worked in Manhattan at a jewelry company for many years. In 2009, after years of bringing lunch in for her co-workers, she delved into the catering business. She now prepares food for non-profit and corporate events around the city. In addition to cooking, Yamini paints and loves to sing and dance, especially at parties.
Why do you love to cook?
I don't really love to eat. I love to cook for other people. I love to feed and nourish people and make them happy. Cooking also brings me closer to fire, water, air and earth. All of these are things are gods to me. Whatever one eats nourishes all five elements of the body.
What do you think it takes to be a great cook?
It helps to think in a positive way, which then puts positive vibrations into your food, making it taste delicious.
Can you describe your cooking philosophy?
I believe that when you are cooking you are loving God and that when you cook you are making an offering. When I cook, I focus on achieving the proper texture and flavor so that I honor the gods. God is living in every human being.
What students are saying about workshops with Yamini:
"
Awesome experience! I have taken cooking classes before at other places, but this exceeded my expectations (hands-on lesson, sit-down meal, friendly instructor, culture, meeting new people, etc.). I think what was great about this experience was the opportunity to learn real Indian cooking from the source.
"
— Eugene J.
"
I just took a class with Yamini and wanted to thank you for such a wonderful experience. Yamini welcomed us into her home, introduced us to her wonderful cuisine, and imparted her knowledge in a very warm, enthusiastic manner. We learned so much from her in the time we spent at her home. The love for her culture and the Indian cuisine was felt in every technique and bite. I recommend a class with Yamini - she is an amazing women and great home chef!!!! It was a wonderful day!
"
— Joyce E.
"
I have to tell you that the class today with Yamini was fabulous. The preparations, the recipes, her genuine warmth and talent were beyond our expectations. Highly recommend!!!
"
— Alma B.
"
I just returned from a day of cooking with Yamini. She was UNBELIEVABLE! Sweet, charming, generous, and a FANTASTIC COOK! Wow!! Thank you SO much for putting this together. We all had a great time that FAR exceeded our expectations. She's a gem.
"
— Scott C.