Japanese Cooking with Aiko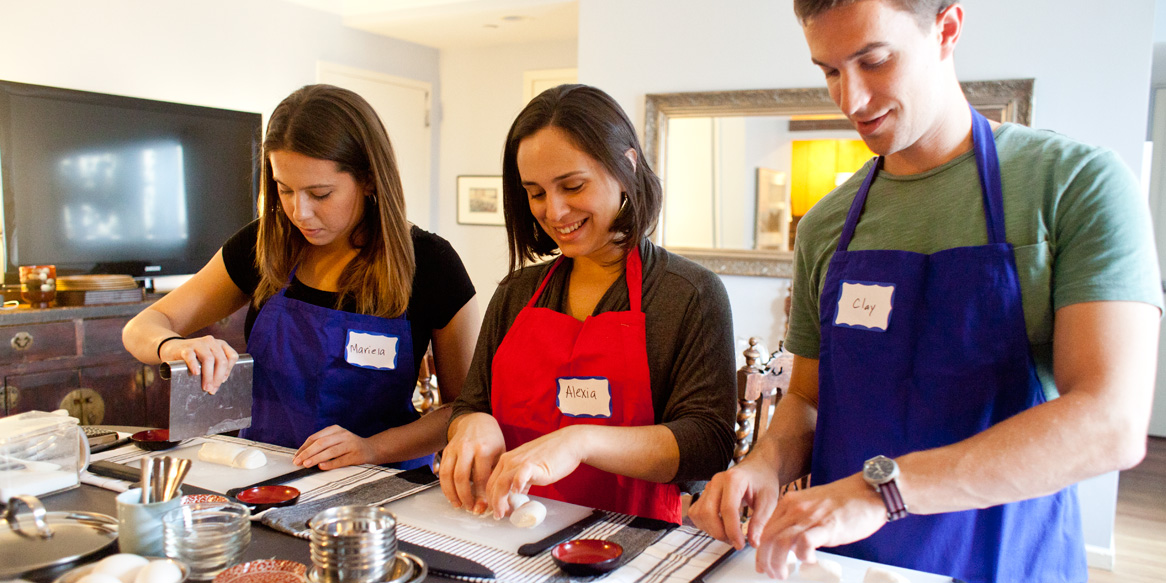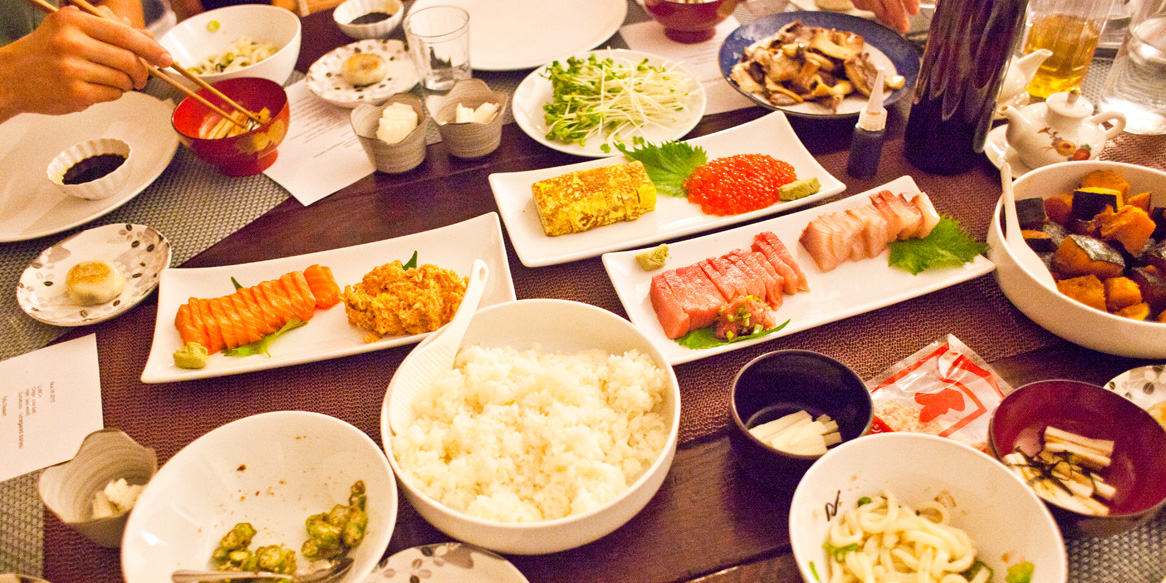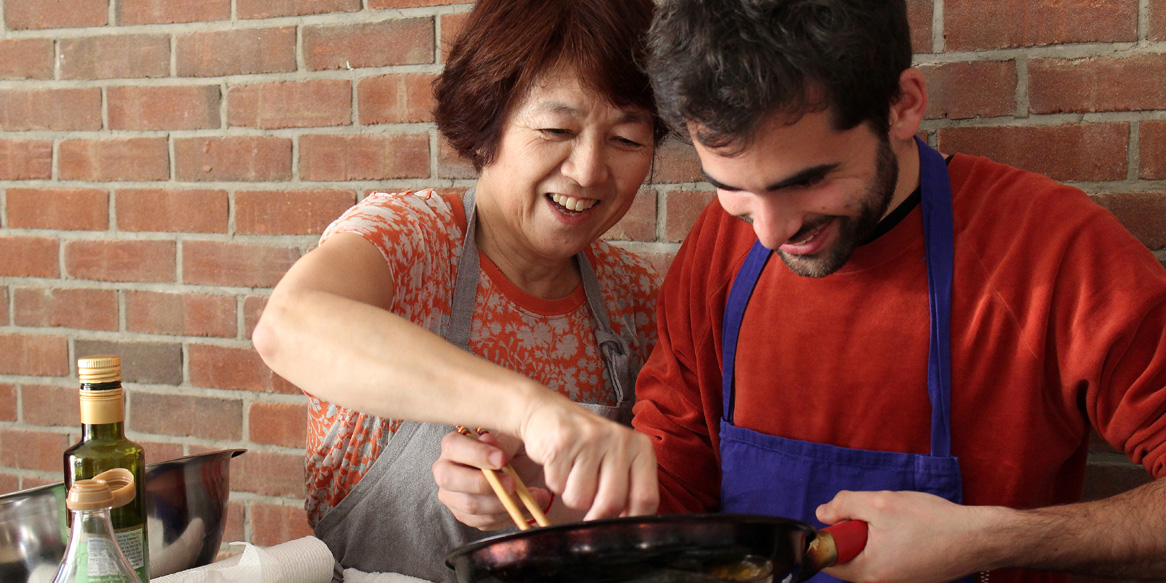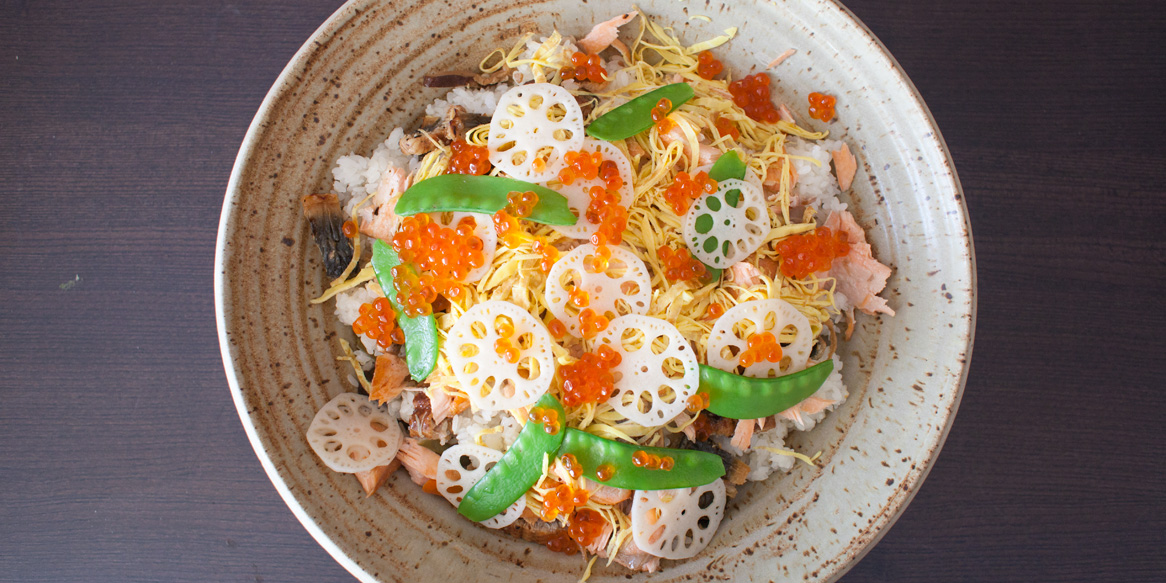 Upcoming Workshops:
All immersion workshops include a light lunch and beverage, 3.5 hours of hands-on cooking instruction, a full dinner, and a booklet of recipes and in-depth culinary info.

All "taste of" workshops include a welcome-snack and beverage, 1.5 hours of hands-on cooking instruction, a small meal, and a booklet of recipes and in-depth culinary info.
Cooking with Aiko:
Aiko embraces omotenashi--a deeply caring and attentive sense of hospitality--that you will immediately experience through the peaceful beauty of her home, warm personality, and enticing cooking. Aiko will welcome you with refreshing cold-brewed green and barley teas, as well as an assortment of Japanese snacks, which could include onigiri (sticky rice triangles with assorted fillings) and seaweed salads. You will then learn the secret to making umami-rich dashi, and how it is used as the base of many Japanese dishes. Aiko will share with you the simplicity and balance that underlies Japanese cooking and teach you the respect for ingredients and attention to detail that she learned from her mother and grandmother as a young girl. Throughout the afternoon, you will have the opportunity to help prepare and taste the unique ingredients and seasonings that form the foundation of Japanese cuisine and learn from Aiko where to buy them and how to select the highest-quality items. You will go home with recipes for the dishes you learned and a shopping guide to Aiko's favorite Japanese markets, leaving you well-prepared to recreate a satisfying, authentic, and home cooked Japanese meal.

Location: Aiko's Kitchen in Hamilton Heights, Manhattan

Transportation: 145th Street (1) 145th Street (A/C/B/D)

Accessibility: Elevator available
Immersion Workshop #1
Fish
Immersion Workshop #2
Fish
Immersion Workshop #3
Fish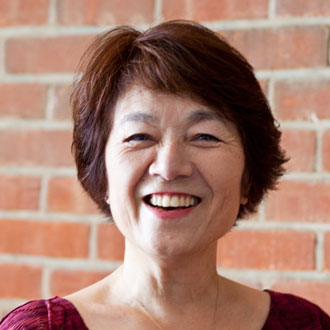 Aiko
Japan
"I believe in using a light touch to bring out the purest tastes of the freshest ingredients."
Bio:
Aiko was born in Kagawa, a Japanese prefecture that is near Osaka and known for its udon noodles. The only girl in her large family, she learned to cook from her mother and grandmother. Although Aiko enjoys cooking food from many cuisines, she always follows certain Japanese principles like mottainai (avoiding waste), and ichiju sansai (literally "one soup three dishes" or a balanced approach to menu planning). For a while after she moved to the U.S. in 1979, AIko was very busy with work, but now she finally has time for her main passion: cooking and sharing her food. She also loves to paint canvases and china, and she is currently taking keyboard and Taiko (Japanese drum) lessons.
What makes Japanese cuisine special?
We don't add many spices or sauces. We just try to make the food taste like itself. We eat a lot of vegetables, and most importantly, we eat seasonally. Omotenashi is very important to Japanese cuisine—it's about hospitality. It's all about attuning to the needs and tastes of the guests — in the flowers, the dishes I serve food on, and the food.
After the second war, we didn't have anything to eat. My mother's generation had no food at all. So we really believed in mottainai, which means no waste. If you use natural material, you shouldn't waste anything, which is very unlike Western food.
Do you have a cooking philosophy?
I'm always concerned with the balance of every dish and every meal – all food needs balance. Western food has salad first, then main course, then dessert. We serve everything at the same time with rice so that we can taste the balance. In one meal, I try to include tastes that are all different but work together. I also always consider nutrition—ichiju sansai [traditional Japanese meals that consist of "one soup three dishes"] is very healthy and good for balancing the body.
What do you love most about cooking?
I love to discover new flavors and ingredients and experiment with them. Whenever I eat something new and interesting, I try to recreate that flavor and bring it into the Japanese style. I love to try new things, and I love the challenge of recreating them.
What students are saying about workshops with Aiko:
"
I loved this workshop. Aiko was a warm, welcoming host both as a Japanese ambassador and chef. The workshop was very hands on as she demonstrated and then we did much of the cutting and prep. Everything was clean and well organized. This was by far the best miso soup I have ever had anywhere and all the other dishes were delicious!
"
— Linda S.
"
Aiko was great and immediately welcoming. I learned a ton - I haven't had too much exposure to Japanese cooking, so it was really fascinating for me. There were lots of "firsts", like cutting bamboo, working with the rice flours and making mochi, using koji for the pickles, seeing the technique for making the sushi rice, and more!
"
— Jessica G.
"
I had an amazing experience! Aiko was so friendly, charming and welcoming. She was very clear explaining each step of the recipes, and I felt like I got plenty of hands on cooking time. The food we prepared was absolutely delicious, and I was amazed by how many different dishes we made during one afternoon. I am so excited to try cooking these dishes on my own. I couldn't have had a better experience. It was so fun!
"
— Alyssa K.