Lebanese Cooking with Jeanette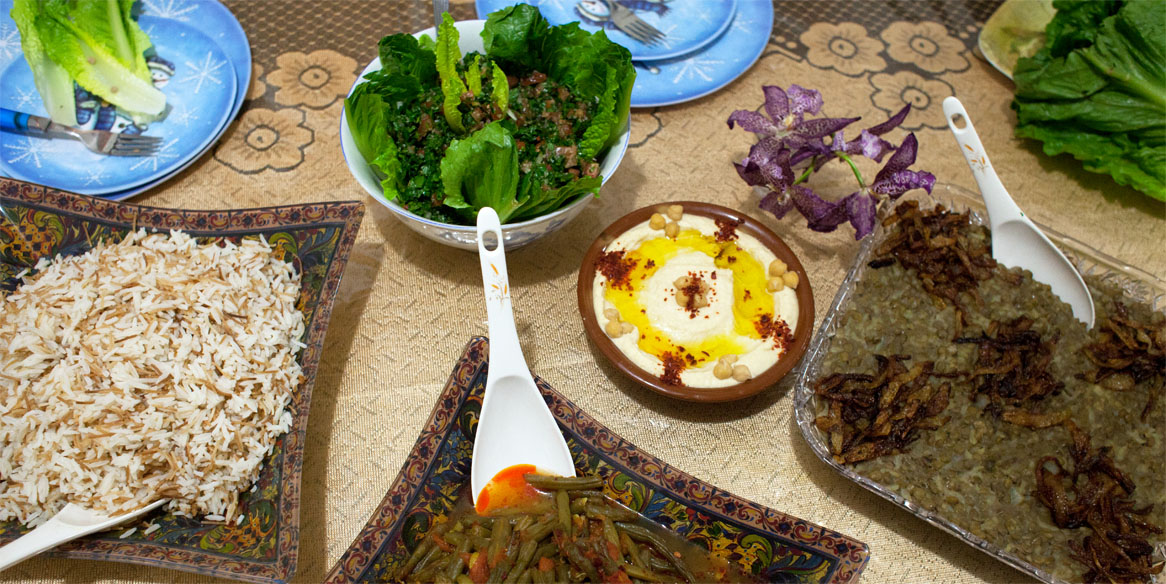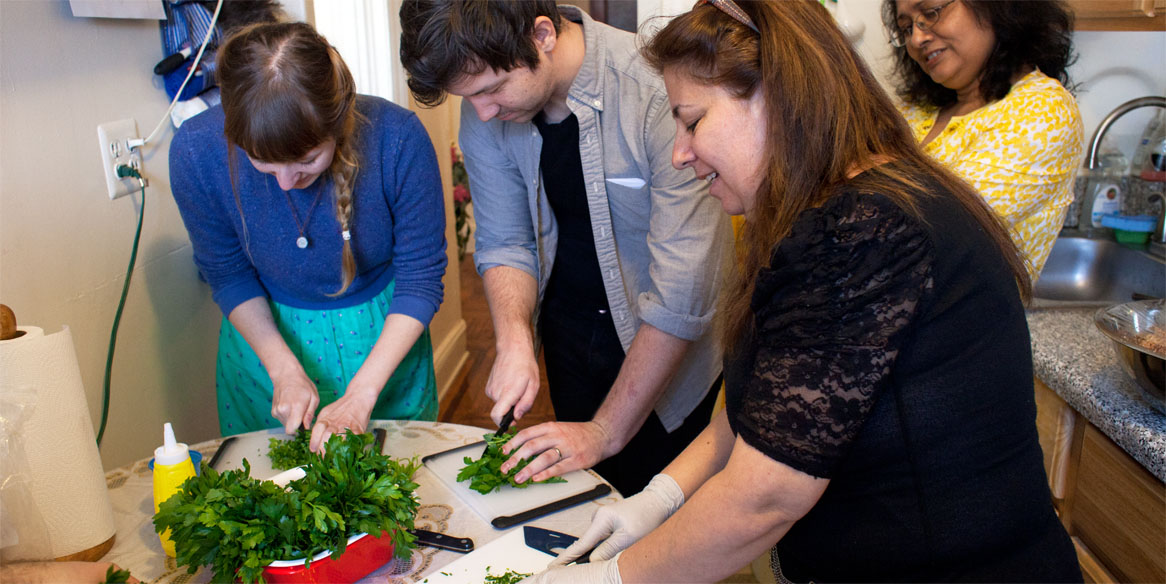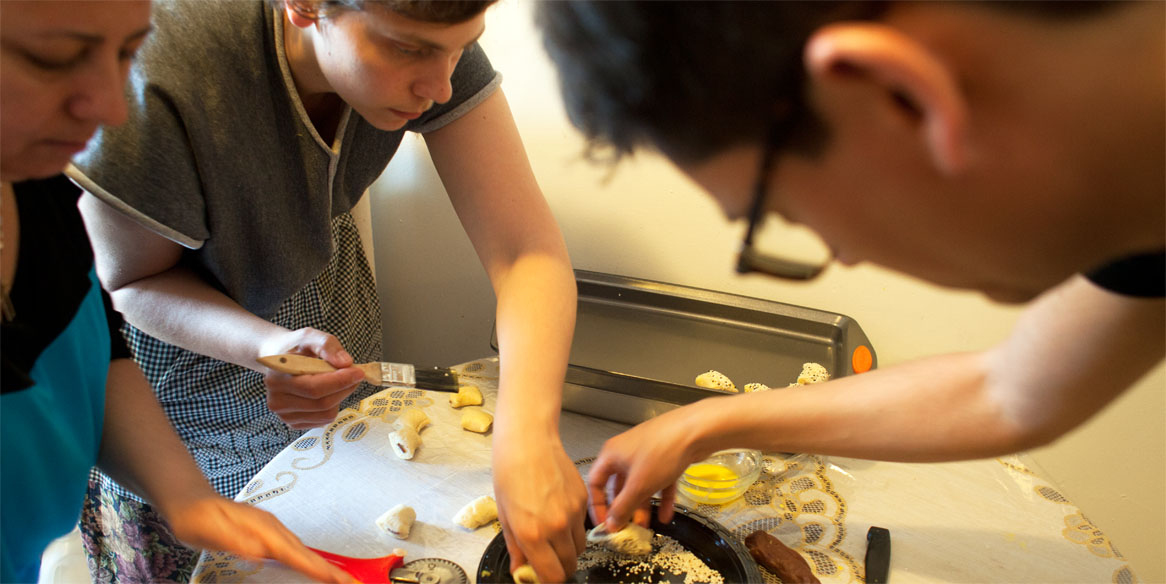 Upcoming Workshops:
Wednesday, Sep 12 | 11am-1:30pm
6 spots available
"Taste of..." Workshop
Veg
$120
Saturday, Sep 15 | 1pm-6:30pm
6 spots available
Immersion Workshop #3

$175
Friday, Sep 21 | 11am-1:30pm
6 spots available
"Taste of..." Workshop
Veg
$120
Saturday, Sep 29 | 1pm-6:30pm
Sorry, workshop is full!
Immersion Workshop #1

$175
Wednesday, Oct 3 | 11am-1:30pm
6 spots available
"Taste of..." Workshop
Veg
$120
Friday, Oct 5 | 11am-1:30pm
6 spots available
"Taste of..." Workshop
Veg
$120
Saturday, Oct 20 | 1pm-6:30pm
6 spots available
Immersion Workshop #1

$175
Saturday, Oct 27 | 1pm-6:30pm
6 spots available
$175
All immersion workshops include a light lunch and beverage, 3.5 hours of hands-on cooking instruction, a full dinner, and a booklet of recipes and in-depth culinary info.

All "taste of" workshops include a welcome-snack and beverage, 1.5 hours of hands-on cooking instruction, a small meal, and a booklet of recipes and in-depth culinary info.
Cooking with Jeanette:
Jeanette is a shining example of the hospitality that Lebanese culture is known for. When you spend the afternoon in her home, you will feel like both a student and an honored guest. Jeannette puts incredible care and detail into her cooking, as you will see when you work with her. Upon arrival, you will sit down to a cup of cinnamon tea and a beautiful array of Lebanese sweets and snacks, such as Middle Eastern flatbreads with za'atar, labneh with cucumber, and pistachio cookies. In her workshops, you will discover new dishes that aren't served at restaurants, and experience familiar classics as you've never tasted them before. At the end of the day you'll go home newly inspired with all the recipes and a shopping guide to Jeanette's favorite food markets.

Location: Jeanette's Kitchen in Bay Ridge, Brooklyn

Transportation: About a 5 min. walk from the 77th Street R stop.

Accessibility: First floor walk-up / one flight of stairs.
"Taste of..." Workshop
Veg
Immersion Workshop #1
In Workshop #1 (Non-Veg), you will start off by learning how to make yogurt from scratch and then how to properly strain and dress yogurt to make labneh, a delicious and healthy yogurt spread. When you make hummus with Jeannette, you will learn how to start with dried chickpeas to get the most flavor, and the proper proportion of tahini, garlic, and fresh lemon to get the most kick. And you will learn how to to arrange and shave parsley to create maximum fluffiness for Jeanette's famous 100% Lebanese tabbouleh. For the main course, Jeannette will show you a unique and stunning dish called maldoum that involves arranging slices of fried eggplant and potato, peppers and seasoned ground meat into a circular pattern to slow cook in a red pepper sauce. Roz bil shaghrieh, rice with pan-fried vermicelli accompanies this main dish. For a sweet send off, you and Jeannette will bake k'ak bi tamer, her favorite date cookies, which are topped with sesame and nigella seeds for both a sweet and savory taste. In the process, you will discover one of Jeannette's "secret" ingredients -- mahlab, which give her cookies a distinctly sweet, nutty flavor.
Immersion Workshop #2
Veg
In Workshop #2 (Vegetarian), you will start off by making a smoky, garlicky baba ganoush, an eggplant spread, which you'll take to a sour and sweet place with a topping of chopped tomato and a drizzle of pomegranate molasses. You will then learn to make mujaddara, a famous Lebanese lentil and rice porridge, which is topped with crispy fried onions, and served with salatet malfoof, a fresh bright cabbage salad dressed with sumac, lemon juice, olive oil, and dried mint. Lubiyeh, silky stewed green beans and tomatoes cooked with whole garlic cloves and served with rice with pan-fried vermicelli will become your new favorite weeknight meal. And for a sweet, you'll learn to make maamoul, a beautiful and festive semolina shortbread cookie, perfumed with rose water, orange blossom water, and mahlab, and filled with walnuts and pistachios.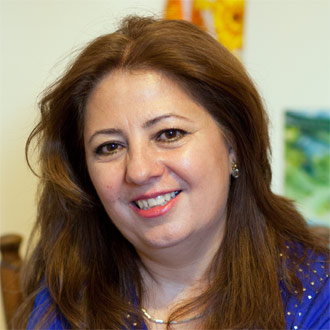 Jeanette
Lebanon
"I'm always learning in the kitchen, even if I've made something many times. I love trying out a new dish and changing something to make it my own."
Bio:
Jeanette grew up in the Lebanese city of Zahle and moved to the U.S. in 2006. She became interested in cooking as a teenager and vividly remembers learning to make tabbouleh from her aunts, a recipe she has painstakingly perfected over time. Formerly an elementary school French teacher, Jeanette now lives in Bay Ridge, Brooklyn, with her husband and three children, where she is an active member of her church and local community, as well as a caterer of small parties and events.
Why do you love to cook?
Because it keeps me busy and engaged with life. My passion is baking. I love how small the dough is when it starts, and then seeing how it takes shape and changes color in the oven. I feel happier and more positive when I'm baking sweets.
What are some of the ingredients you use the most?
Ground cloves, cumin, sumac and paprika.
Besides cooking, what do you enjoy?
I like parties, I love my friends, I love hosting.
Do you have a particular cooking philosophy?
I think we eat with our eyes as well as our mouths. So I don't like to just cut a cucumber. I like to think about how to design it on the plate and make it look special. It's important to cook with love.
What students are saying about workshops with Jeanette:
"
Jeanette was a wonderful teacher! It was an amazing day that was filled with delicious food and great instruction. She and her husband were incredibly welcoming hosts. It was such an amazing experience to learn about her country and recipes. She welcomed us into her home like we were family.
"
— Danielle H.
"
I loved the class with Jeanette, she is such a gem! The League of Kitchens is more than sharing a meal, it's about building community. Everyone had stories and cooking tips to exchange in the kitchen! I will definitely tell my friends & family about the classes.
"
— Glory E.
"
My wife and I spent a Saturday afternoon learning Lebanese cooking from Jeanette. It was a delightful experience. In many ways it was like a meal among friends where everyone gathers in a kitchen and chips in to prepare a meal. It differed only in that Jeanette did the shopping and led our efforts and in that the food was unfamiliar. She was eager to answer our many questions. Added bonuses were walking the neighborhood before we arrived (we were sent a list of her shopping locations) and meeting her family. We left sated and knowing more about a cuisine and a culture.
"
— Dan B.
"
I had a wonderful experience. I expected a light snack upon arrival, but Jeanette had prepared an amazing feast. Everything was delicious. She was very sweet and eager to chat with us. She made us feel very comfortable and we were able to talk and laugh the whole time. I learned a lot while we cooked.
"
— Rebecca S.