Mexican Cooking with Angie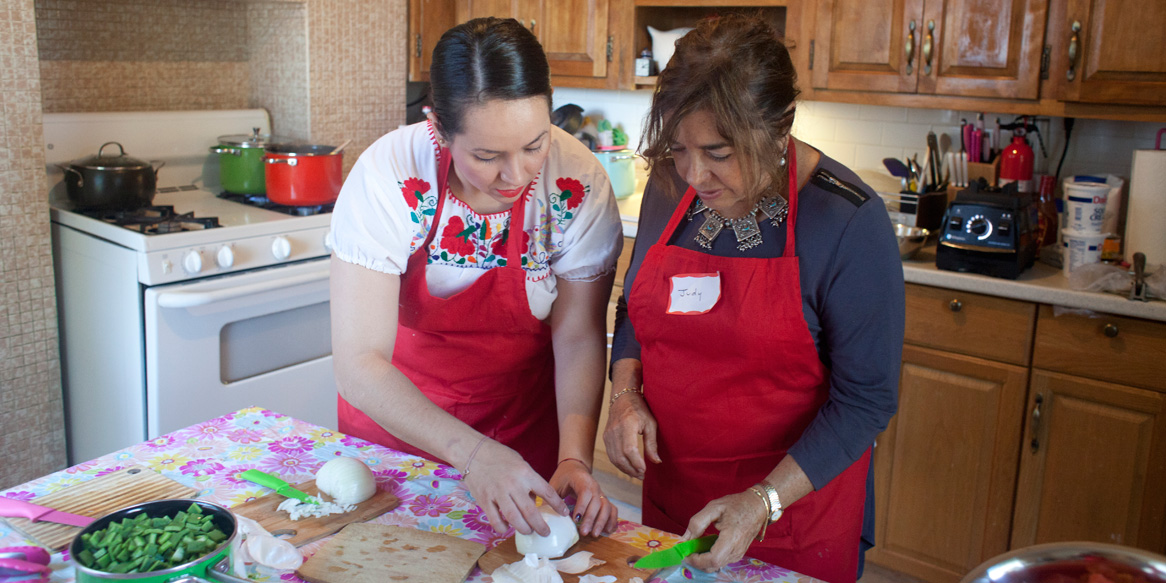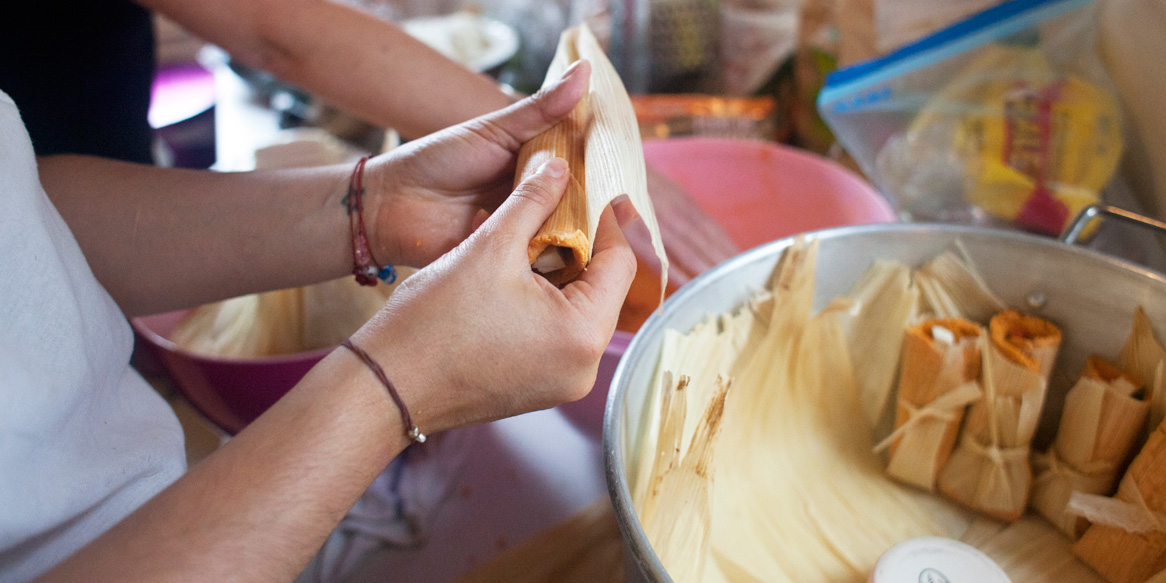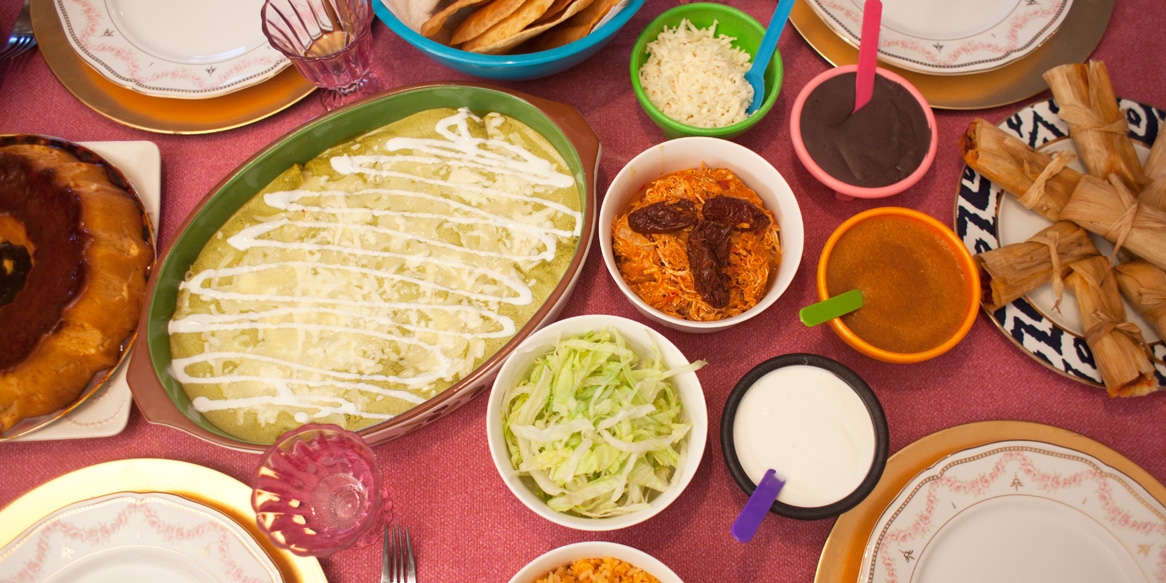 Upcoming Workshops:
All immersion workshops include a light lunch and beverage, 3.5 hours of hands-on cooking instruction, a full dinner, and a booklet of recipes and in-depth culinary info.

All "taste of" workshops include a welcome-snack and beverage, 1.5 hours of hands-on cooking instruction, a small meal, and a booklet of recipes and in-depth culinary info.
Cooking with Angie:
One of Angie's favorite things in the world is the smell of homemade tortillas, both the flour variety from her hometown of Monterrey and the corn kind from Puebla. You'll understand why as soon as you walk into her home. Keeping tradition alive is incredibly important to Angie. Although she has been living in the US for more than half her life, she is very proud of her Mexican heritage and loves nothing more than sharing Mexican traditions with her guests. Angie brims with passion for her cuisine and loves telling stories about what she cooks--recipes she learned from her mom, her "Aunties," her mother-in-law, and her husband's six sisters. Angie is full of love for her country, her family and friends, and pretty much anyone who walks into her home excited to learn, cook, and eat. You'll leave Angie's workshop with a newfound appreciation for the sentiment behind "mi casa es su casa"—something Angie says often and in earnest. (Pro tip: Angie is working on a guide to the best places to eat Mexican food in NYC and she loves sharing her information…)

Location: Angie's Kitchen in Richmond Hill, Queens

Transportation: 111th Street (J)

Accessibility: Second floor walk-up
"Taste of" Workshop
Veg
An exciting introduction to Mexican cuisine! This 2.5 hour workshop will begin with a warm welcome to Angie's home, refreshing agua fresca made from seasonal fruits, and traditional snacks that may include flautas (fried, rolled-up, stuffed tortillas) and picaditas (thick corn tortillas topped with salsa, cheese and avocado). You will then learn how to make tostadas, crispy corn tortillas topped with creamy black beans, freshly-made salsa roja, and other classic toppings. You'll also learn to prepare nopales azados con cebollitas cambray y jalapeños, pan grilled cactus with young onions and jalapenos, seasoned with fresh lime juice. For dessert, you'll learn the art of traditionally-made Mexican hot chocolate, which Angie will serve with Mexican bread from a local bakery. After working up an appetite in the kitchen, you'll sit down together as a group and enjoy the meal you've made! You'll go home with a booklet of recipes and in-depth culinary info so that you can recreate these delicious dishes at home.
* Food Allergies: This menu includes dairy.
Immersion Workshop #2
Veg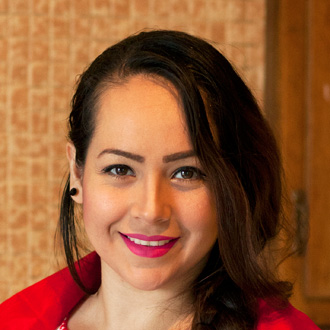 Angie
Mexico
"My philosophy is to cook with passion and no fear. And love, lots of love."
Bio:
Angie hails from Monterrey, the large, industrial city right near the Mexico/US border. Her love of cooking developed at a young age, since she and her two siblings often helped out their busy, working mom in the kitchen. At 15, Angie moved to New York City to attend high school. Later, she started working as a bartender at a Mexican restaurant, where, of course, she also helped out in the kitchen. Shortly after high school, Angie married a man from Puebla (a state with a rich and varied culinary culture) and immediately started learning his native cuisine from her mother-in-law and six sisters-in-law, all excellent home cooks. Angie is passionate about preserving Mexican tradition, as is her husband Ramon, who leads the acclaimed Mariachi group Mariachi Real De Mexico and founded the Mariachi Academy of New York, a non-profit school that offers free music lessons to children. Angie is an artist, and when she isn't cooking or helping run the Mariachi Academy, she sings, models, and takes photographs. She is also a very proud mom to her young son, Alexander.
What was the first dish you learned to make?
The first dish that I learned to cook was a dessert – key lime pie. And then I learned how to make albondigas en chipotle (chipotle meatballs) and picadillo (a traditional ground beef and potato dish). Those are the three dishes that I started cooking very, very young, around 7 or 8 years old, for my family. My brother would ask me to make these dishes for him every year on his birthday. He'd say "hermanita," (he calls me "little sister" even though he's the little one), "can you please make…" And he still asks me to make those dishes! He lives in Monterrey, so we don't see each other that often, but he always tells me that I'm the best cook ever.
What makes Mexican cuisine special?
Mexican food is loved all around the world because of the variety of big flavors—in Mexico, every state has its own cuisine and its own special dishes. Oh and of course everyone loves Mexican cuisine for our Mexican-born traditional ingredients like corn, avocados, jalapeños, and a large variety of dry chiles. And of course we cannot forget chocolate! Some of these ingredients even have their own gods in our pre-Hispanic history.
How is Americanized Mexican cuisine different?
Because Mexicans use very fresh ingredients and make things from scratch. For example, we always make tortillas from scratch—there's no other way.
Do you have a cooking philosophy?
My philosophy is to cook with passion and no fear. You have to cook without fear of doing something wrong, because there's always a way to fix it. And you have to cook with lots of love, like lots and lots and lots of love, because it will end up in your food. Energy and love go into your food, and people will actually taste them. Love: it's the invisible ingredient.
What students are saying about workshops with Angie:
"
I felt very comfortable in Angie's home, and she was very welcoming. I truly believed her when she said we were welcome back any time. She was also a great cooking teacher! Explaining each part, and adding various facts and tidbits as the night went on. It was evident how much she equated food and love. And everything tasted AMAAAAAAAAZIIIINNNGGGG.
"
— Alex P.
"
I learned a ton about Mexican food! I learned things about how to handle rice that are immediately applicable to my cooking at home. She made things that might have been complicated (how to assemble the tamales, for instance) really simple. She's good at describing processes in a practical way. She never got stressed or impatient, and is so can-do! It really made me feel emboldened.
"
— Caitlin H.
"
Angie and Ramon both made everyone feel so welcome. Their house was warm and cozy and we were invited in like old friends. They were so kind and gracious. I also learned a lot! My favorite tidbits were little sprinklings of information while we cooked. Angie told us, for example, that there is a saying that you cannot make tamales when you're mad, or else they won't cook. You have to make them with love :)
"
— Alida B.