Nepali Cooking with Rachana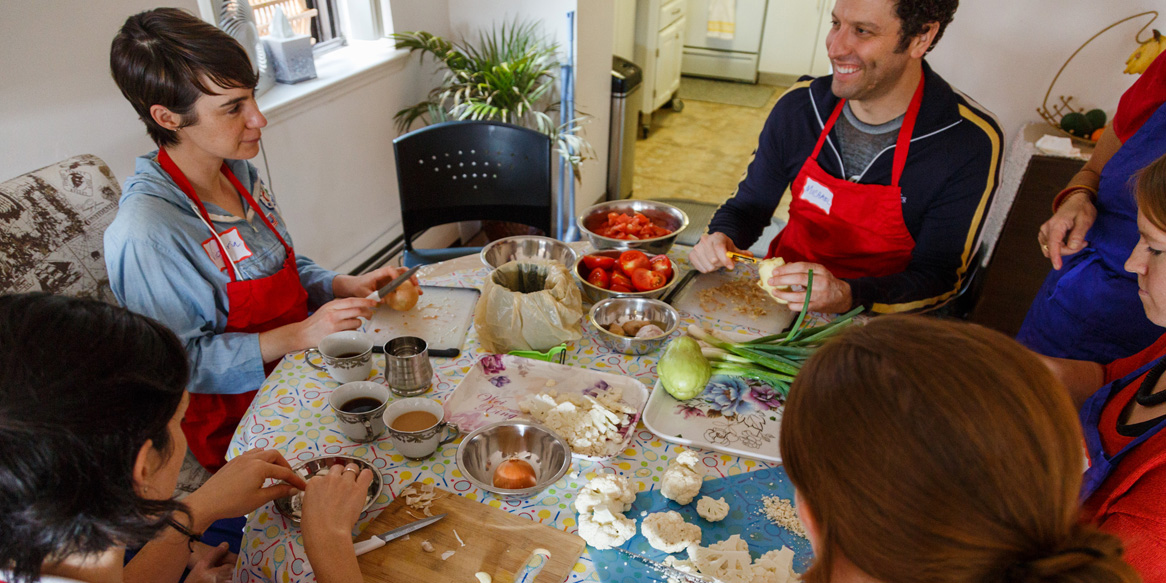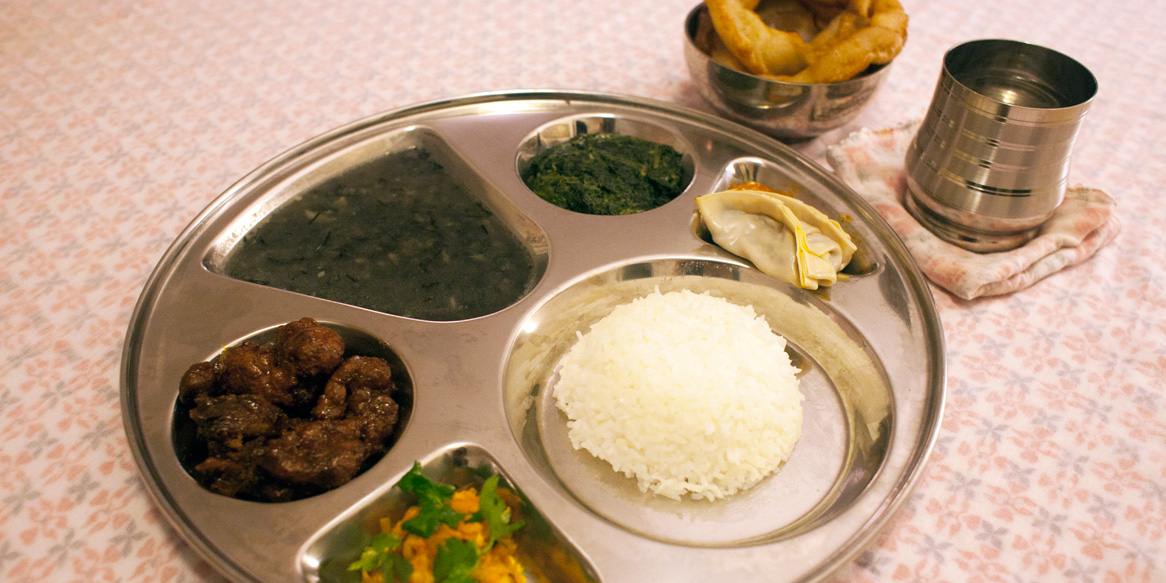 Upcoming Workshops:
Sunday, Nov 25 | 1pm-5:30pm
4 spots available
$175
All immersion workshops include a light lunch and beverage, 3.5 hours of hands-on cooking instruction, a full dinner, and a booklet of recipes and in-depth culinary info.

All "taste of" workshops include a welcome-snack and beverage, 1.5 hours of hands-on cooking instruction, a small meal, and a booklet of recipes and in-depth culinary info.
Cooking with Rachana:
Rachana's bright and open home is a peaceful respite from the intense bustle of Flushing's main street a few blocks away. The wafting aroma of toasted spices and the colorful Nepali accents throughout Rachana's apartment will immediately envelop you in a warmth that will only become more pronounced as you get to know her. Rachana is sweet and patient, but don't let her quiet demeanor fool you--she's sharp, sassy, and tells it like it is, making you a better cook in the process. Rachana will welcome you into her home with tea, cardamom lemonade, and a welcome lunch that may include Pani Roti (Roti Soup), Chura Ka Pulao (Beaten Rice), Aloo Sadeko (Sauteed Potato), and other dishes that blend Indian, Chinese, and Tibetan influences to make a cuisine all its own.

Location: Rachana's Kitchen in Flushing, Queens

Transportation: Main St (7) Flushing Main Street (LIRR)

Accessibility: Elevator Available
Immersion Workshop #1
Veg
Immersion Workshop #2
Veg
Rachana
Nepal
"I connect with people through the love I put into my food. And I put a lot of love into my food."
Bio:
Rachana was born in Kathmandu, the capital of Nepal, a country that shares borders (and culinary traditions) with China and India. Rachana's grandfather worked as an administrator for the king, and her husband, whom she married when she was sixteen years old and he was seventeen, had a grandfather who also worked for the king as a physician. Rachana's father studied agriculture and oversaw the farming of a family owned property many miles from the capital. He would frequently send fresh food from the farm, which her mother and daughters-in-law would cook for her, her six siblings, and thirty to forty-five members of their extended family. From a young age, Rachana loved to cook and spent many hours watching her mother in the kitchen. She especially enjoyed learning the recipes that her mother had learned from her own parents that had been passed down over many generations. Rachana came to the US alone in 2006. She is now happy to live in Flushing with her husband and two of her grown children. She loves to share her food and her Nepalese heritage through the League of Kitchens as well as through Eat Offbeat, a catering company where she works as a chef.
What was the first dish you learned to cook?
When I was 8 years old, my mother taught me how to make the basics: rice and dal and chapati. The first special dish she taught me was kheer (rice pudding), and now every time there is a festival or any kind of occasion, I make the kheer that she taught me.
What are some of your favorite ingredients to use?
I use a lot of green capsicum. That is the primary pepper I use, and it is in a lot of dishes. I also love to use Sichuan peppercorn. And, without ginger, I can't cook. Ginger is very important in Nepali food and one of my favorite ingredients. I also like to use jimbu (an herb that belongs to the onion family), cashew nuts, cardamom, and cinnamon.
What makes Nepalese cuisine special? / What are your favorite dishes?
Our food is influenced by China and India, so we have dumplings, biryani, pilau, manchurian, and other dishes that we take from other cultures, but make differently. We experiment with these dishes, mixing up what we like from Indian and Chinese food, and we add our own spices to everything.
The normal Nepalese meal is rice, daal, and vegetables, and we eat 6 or 7 items at a time. For special occasions, we eat a lot of sweets and a lot of meat dishes.
It is very cold in the mountainous and hilly regions of Nepal, so people always want to eat hot dishes like gundruk, dried and fermented greens, and dhindo, which is made of cornmeal or millet (similar to polenta). Our food is very healthy because we don't use much fat, and we use a lot of vegetables, especially leaves like mustard greens.
Tama is another special Nepalese food—it's a soup made from fermented bamboo shoots that's a little bit sour and very spicy. Sour and hot makes your body feel very good. The dish is from China, but we add potato and different spices, so it becomes Nepalese.
What do you love most about cooking?
When people come over and they like my food, I am so happy. I love to feed people. I love to call people to come over and eat my food – that is my passion. I think that food is love. When people eat my food, they feel my love. And when they love my food, I feel their love. I connect with people through the love I put into my food. And I put a lot of love into my food.
Do you have a cooking philosophy?
Whatever I cook, it is special for me—all of my mind goes into whatever I cook, and I give it my all. Also, whatever food I cook, I try to cook it very different from the last time.
My inspiration is my mother. Any time I cook, I am thinking of my mother. I always remember that my mother said: "we are all from God, so when you feed somebody, you are engaged in a Godly act." She taught me to feel God through food. She also taught me that the more I feed people and fulfill their need for nourishment, the more God would do for me and nourish me and my family.
What students are saying about workshops with Rachana:
"
I felt extraordinarily comfortable in Rachana's home. It was a privilege and honor to be welcomed so openly and generously, plus I learned A LOT about Nepali food and ingredients and about Rachana's family and unique cultural perspective. Everything she shared was very interesting. And I definitely think I can replicate a lot of these dishes at home, which is not what I expected. But they aren't nearly so intimidating now!
"
— Victoria L.
"
Rachana did a wonderful job telling her story - which is incredible. We were all spellbound. She is an amazing woman and we felt lucky to spend the day with her.
"
— Megan M.