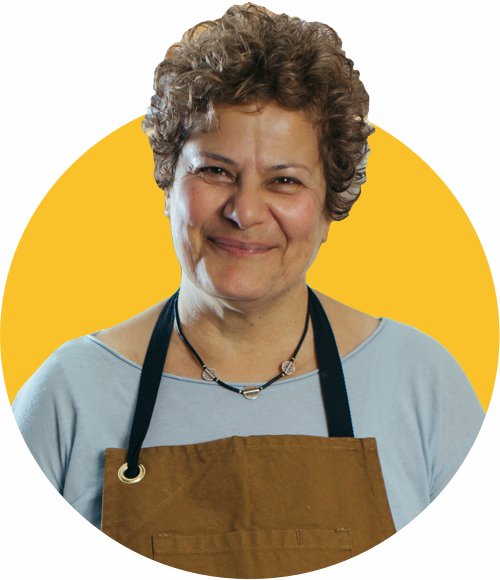 Meet Mab
From
Iran
. Lives in
Sunset Park, Brooklyn
.
Mahboubeh (Mab) was born and raised in Khorramshahr, a city with a large Arab population in southern Iran. However, her parents have roots in the Azeri region of northern Iran and Mab grew up learning the unique and delicious cuisine from that region. She learned about ingredients from her dad, who owned a restaurant, grocery store, and tea importing company. He taught her how to pick the best quality ingredients for every recipe. While her father taught her what to cook with, it was her mother that taught her how to cook. Mab's mother, who was often homesick for the northern region where she grew up, taught her how to cook the food "low and slow" to bring out the incredible flavors and smells of the food that would transport them back to the Azeri region from which the recipes came.
As a young woman in the late 1970s, Mab became involved in the Iranian Revolution, but later, when she became a vocal advocate for women's rights in Iran, she was persecuted by the Islamic Republic. After being imprisoned three times during the 2000s for organizing peaceful protests, she fled Iran and moved to New York City. Before joining the League of Kitchens, Mab managed the nonprofit organization Zanan TV, and she continues to work as an educator in schools around New York City. Mab is a women's rights activist, documentary filmmaker, and educator who believes food provides a special opportunity for connection and empowerment. She has been featured in New York Magazine (Grubstreet), Slow Food USA, Wall Street Journal, Saveur, Good Food Podcast, and other publications.
"
Mab made us feel immediately welcome, from serving us her delicious lentil spinach soup, to sharing details about her childhood and life as a feminist and activist. It was an intimate form of storytelling not many other classes would provide.
"
Jess B.