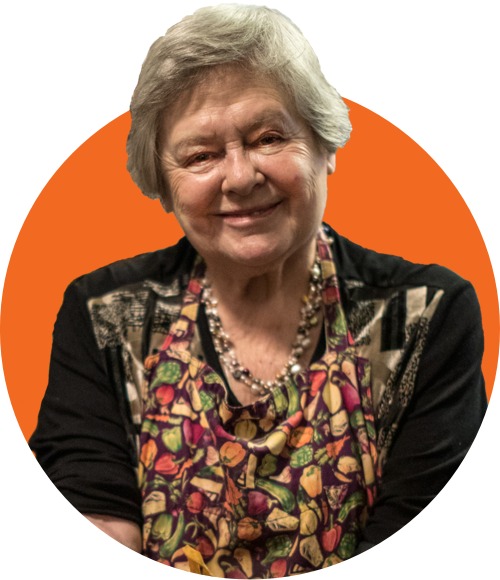 Meet Larisa
From
Ukraine & Russia
. Lives in
Jackson Heights, Queens
.
Larisa Frumkin was born in 1934 in the bustling Black Sea port of Odessa, but soon her family moved to the Russian capital, Moscow. Her father was a high ranking naval intelligence chief who'd interrogated Hermann Goering at the Nuremberg Trials; her mother an architect. As a child and then a young woman Larisa witnessed some of the most tumultuous historical events of the 20th century: Stalinist repressions, World War II, Khurshchev's political Thaw. Cooking was a huge challenge in the former USSR where long lines and chronic shortages were daily reality. But Larisa wasn't deterred. Cooking, she felt, could transport her to different worlds, offer an escape from the dull Soviet grind. Like so many busy Russian women she could conjure up small feasts seemingly out of thin air: some root vegetables, a couple of eggs. Her Moscow kitchen always bustled with guests.
Always at odds with the repressive Soviet regime, in 1974 Larisa and her young daughter found themselves stateless refugees to the US with two tiny suitcases and no right of return. In those Iron Curtain days, she recalls, emigration felt like death with the right of correspondence. But after Gorbachev opened the border in the late 1980s she was able to reunite with her family. In Philadelphia, and then in New York, Larisa taught ESL in elementary schools while pursuing her passion for entertaining and cooking. Meanwhile her daughter, Anya, became a professional food writer and many of Larisa's recipes are included in Anya's James Beard-award winning cookbook Please to the Table. After retiring from teaching Larisa pursued her other passion, art, working as a Russian-speaking volunteer guide at the Metropolitan Museum of Art. While there, she became obsessed with reconstructing historic feasts--Biblical, Ancient Greek, Renaissance. After Saveur magazine published a story on her 19th century Russian feast, Larisa and Anya decided to cook their way through the Soviet 20th century. That project became the basis for Anya's internationally acclaimed memoir, Mastering the Art of Soviet Cooking (translated into twenty languages) in which Larisa is the protagonist. Her recipes and stories have been featured in Spruce Eats, Saveur, Food & Wine, Tasting Table, Epicurious, NPR, and other publications. She starred in a six-part show on food history for Russian TV.
Larisa loves surprising guests with elaborate multi-course menus but she's equally happy making homey traditional Russian family food: hearty soups, savory baking with yeast dough, blini and salads. As she turns 87 in March, she's excited to start a new chapter in life and share her stories and skills with LoK students.