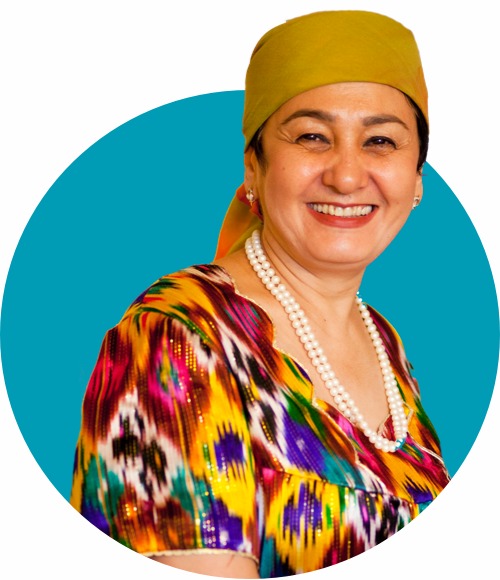 Meet Damira
From
Uzbekistan
. Lives in
Borough Park, Brooklyn
.
Damira is originally from Samarkand, an ancient city that lies on the Silk Road, which she refers to as "the historic crossroads of East and West." She loved growing up in such a diverse country where she learned to cook from her mother, grandmother, and friends of many backgrounds. For Damira, food, family, and culture are inseparable. She fell in love with cooking as a child on her grandmother's farm, helping to prepare meals for her large family (including 33 grandchildren!). Damira and her husband left Uzbekistan in 2013 to be closer to their children, who were living in the United States, and to do something new—Damira believes it's always important to try new things and to have many life experiences.
While she was still in Uzbekistan, Damira was a doctor until her country's mandatory retirement age of 55. Now, she is doing what she loves most: hosting her friends for home-cooked meals. Damira loves to entertain friends from all over the world and to surprise them with new kinds of food and interesting conversations. Her remarkable meals have been featured by Food & Wine, The kitchn, The Splendid Table, Grub Street, Epicurious, Tasting Table, Eater, and Chicago Tribune. Damira also loves exploring New York City, its many tastes, and meeting new people. She says her life has changed a lot since moving to NYC, and she loves everything about it.
"
I loved my first experience with League of Kitchens and cannot wait to tell everyone I know. I really enjoyed the small class and how personal Damira was--she really opened herself up, speaking about Uzbek culture, offering her own childhood stories growing up in Uzbekistan. I love that the focus is not just about food-- what makes this special is the human connection; I loved learning more about Damira, her family, and life in Uzbekistan.
"
Jenn T.