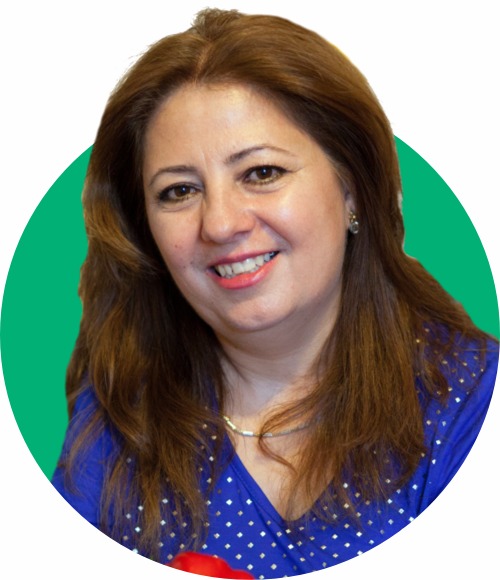 Lebanese Online Workshop #2
Learn to make satisfying chicken ouzi (a festive rice dish topped with tender chicken and seasoned with onions, ground beef, warm spices, and nuts), a piquant garlic-yogurt sauce, and a refreshing Lebanese salad!
Saturday, Jul 22
11am-1:30pm (EDT)
This workshop will take place online.




| | |
| --- | --- |
| | $60 per device (laptop/tablet/etc) |
| | All ages! |
All
Online
cooking classes include interactive cooking instruction, a virtual dinner party, a packet with the instructor's family recipes, and a video recording of the class. Since the price is per device, feel free to invite your partner, kids, or roommates to join!
Since Jeanette can't physically welcome you into her home, she wants to do so virtually!
Our online classes are designed to be special, meaningful opportunities to share cooking, culture, and connection--just like our real life experiences. We want you to cook along, and we promise there will be plenty of time for questions, conversation, and stories. It will all end with a virtual dinner party where you'll get to share in the fruits of your labor, apart, but together!
In this 2.5 hour interactive online experience Jeanette will guide you through making three of her family recipes for a spectacular and satisfying meal. You'll begin by boiling a whole chicken with aromatics (bonus broth!). You'll then cook basmati rice with ground beef, onions, and warming spices, which you will top with pieces of cooked chicken, nuts sauteed in butter, and a sprinkling of Lebanese "7 spice" and fresh nutmeg. You'll then prepare a simple garlic-yogurt sauce flecked with dried mint for dipping the chicken. Finally, Jeanette will teach you how to make a signature Lebanese salad of cucumbers, peppers, tomatoes, onions, and thyme, with a pomegranate molasses dressing that is the perfect fresh complement to the other dishes.
Here's how it works:
After registration you'll receive an email with the Zoom link, shopping list, equipment list, and recipe packet.
At the scheduled time of your class, you'll click on the Zoom link and join your class live! Afterwards, you will receive a link to a video recording of your class that you can revisit at your leisure.
Shopping List for This Class
One 3-to-4-pound whole chicken
½ pound lean ground beef
3 medium white onions
1 large carrot
4 Persian cucumbers
1 large beefsteak tomato
½ green bell pepper
2 large or 3 small cloves garlic
4 lemons
1 ½ cups basmati rice
2 tablespoons plus 2 teaspoons salted butter (if using unsalted butter, add ¼ teaspoon of salt)
½ cup pine nuts
1 cup cashew pieces
1 cup whole almonds with skin
1 teaspoon pomegranate molasses
1 cup whole milk yogurt
3 tablespoons neutral oil, such as vegetable or sunflower
1 tablespoon olive oil
2 bay leaves
2 pieces flat cinnamon (desi) or 1 conventional cinnamon stick
3 whole black peppercorns
1 teaspoon ground cinnamon
1 teaspoon ground allspice
1 teaspoon Lebanese 7 spice blend (optional)
½ teaspoon freshly grated nutmeg
1 tablespoon dried thyme
1/4 teaspoon ground sumac
½ teaspoon dried mint, plus more for garnish
salt
"
Jeanette was a wonderful teacher! It was an amazing day that was filled with delicious food and great instruction. She and her husband were incredibly welcoming hosts. It was such an amazing experience to learn about her country and recipes. She welcomed us into her home like we were family.
"
Danielle H.