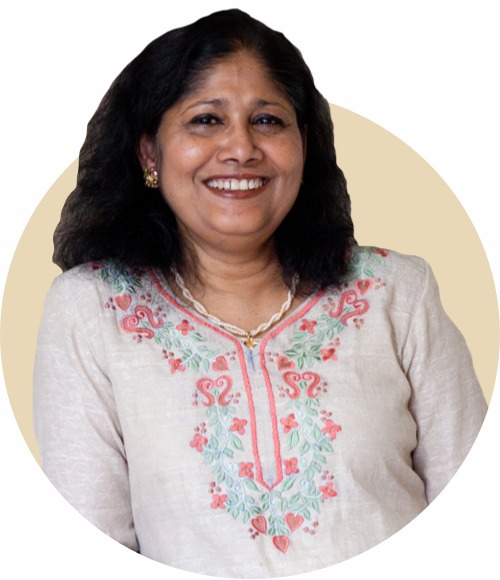 Bangladeshi Cooking Online
Learn to make murgir mangsho (a fragrant chicken and potato curry) with bhath (spiced Basmati rice)!
Wednesday, Dec 27
6pm-8:30pm (EST)
This workshop will take place online.



| | |
| --- | --- |
| | $60 per device (laptop/tablet/etc) |
| | All ages! |
All
Online
cooking classes include interactive cooking instruction, a virtual dinner party, a packet with the instructor's family recipes, and a video recording of the class. Since the price is per device, feel free to invite your partner, kids, or roommates to join!
Since Afsari can't physically welcome you into her home, she wants to do so virtually!
Our online classes are designed to be special, meaningful opportunities to share cooking, culture, and connection--just like our real life experiences. We want you to cook along, and we promise there will be plenty of time for questions, conversation, and stories. It will all end with a virtual dinner party where you'll get to share in the fruits of your labor, apart, but together!
In this 2.5 hour interactive online experience Afsari will guide you through making two of her family recipes. First you'll learn how to build Afsari's aromatic murgir mangsho (chicken and potatoes slow-cooked in a rich and fragrant tomato-based sauce, seasoned with ginger, garlic, coriander, cumin, clove, cardamom, chilli, cinnamon, black peppercorn, and turmeric). Then you'll prepare lightly spiced bhath (basmati rice gently flavored with green cardamom, bay leaf, and cloves)..
Here's how it works:
After registration you'll receive an email with the Zoom link, shopping list, equipment list, and recipe packet.
At the scheduled time of your class, you'll click on the Zoom link and join your class live! Afterwards, you will receive a link to a video recording of your class that you can revisit at your leisure.
Shopping List for This Class
neutral oil
6 cloves garlic
3 inch piece of ginger
2 white onions
fine salt
1 plum tomato
one 2 pound chicken, cut into 8 parts with skin removed, OR 1.5-2 pounds of chicken thighs or breasts, skin removed
2 small Russet potatoes
1 pound white basmati rice (not parboiled, not brown)
ghee or butter
5 black peppercorns
10 green cardamom pods
12 whole cloves
4 bay leaves (ideally Indian bay leaves)
1 cinnamon stick
ground coriander
1/2 cup cumin seeds (to make roasted ground cumin--some will be leftover)
red chili powder
turmeric
1 lemon
"
The whole day was relaxed and lovely. Afsari was welcoming and taught us so much about her own life and about the food. I truly had so much fun and learned a ton. The experience far exceeded my expectations. I was thrilled with how many leftovers we were able to take home. The value was increased by the fact that I get to continue eating this lovely meal for lunch for two days!
"
Julie S.